Building Gigabit Networks: Three Powerful New Financing Models in Utah, Mississippi and Texas
April 29, 2014 - As communities across the country consider ways to build Gigabit Networks, a range of public- and private-financing models are now being considered in geographies as diverse as the Wasatch Front in Utah, rural Mississippi; and College Station, Texas.
Three separate financial models were explored earlier this month at the Broadband Communities Summit in Austin, during a panel on "Public-Private Partnerships for Economic Development."
The first model, in Utah, involves a private company -- Macquarie Capital -- entering into partnership with the public sector to complete a fiber build worth more than $300 million. In Mississippi, network builder C Spire Fiber put out a "reverse Request for Proposals" in an effort to incent Mississippi communities to invest in fiber.
In the third example, in College Station, Texas, a technology entrepreneur and city council member discussed his efforts to bring Gigabit Networks to the hometown of Texas A&M University.
'Boring, Low-cost Capital'
Macquarie, a global financial services firm based in Australia, is already a major player in the market for building traditional infrastructure: roads, bridges, tunnels, ports, water and gas utilities.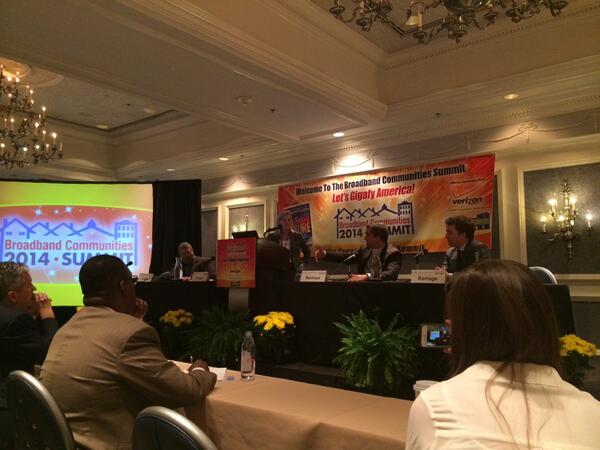 "We have always been looking for new ways to apply the model, and when we take a few steps back, fiber to the home looks and smells like a utility," said Duncan Ramage, company senior vice president responsible for infrastructure advisory and development in North America.
"This is a long-term asset, an essential service, with a certain investment horizon," he said. "We are looking for opportunities to apply this, particularly in the U.S." At the moment, Macquarie is focused on efforts that would lead to the completion of the Utah Telecommunications Open Infrastructure Agency (UTOPIA) Gigabit Network.
Although Macquarie is negotiating with UTOPIA, a final agreement to complete the network has not been inked, he said. UTOPIA offers Gigabit broadband services in about ten cities along the Wasatch Front, including Layton and Brigham City north of Salt Lake City, and Lindon and Orem, which are adjacent to the university community of Provo.
In bringing a traditional infrastructure financing model to fiber infrastructure and construction, Ramage acknowledged that Macquarie was attempting to do something unique in the current U.S. communications marketplace.
"Fiber can be good for many, many years, but it is effectively like a gas line into your house," he said. Macquarie would like to build Gigabit-capable fiber lines into homes, operating network infrastructure -- but allowing other companies to provide consumer-facing Gigabit services.
"We are a boring, low-cost capital [company]. We are keen on building the highway so that others may use it," said Ramage. "In the case of UTOPIA, there is an interesting sub-scale network in need of an injection of capital to complete it, to make it sufficient."
Under the Macquarie proposal, the company plans to invest more than $300 million of its own capital to build out the network. It would recoup those costs through a municipal utility fee in place over 30 years.
Ramage's presentation highlighted two key differences between Macquarie's proposal for UTOPIA and what Google Fiber has done in Provo.
Last April, Google announced an agreement to purchase the assets to the iProvo municipal fiber network. It was subsequently announced that Google's purchase price for the troubled network was one dollar. The network would revert back to the city if Google doesn't complete its upgrades within 7 years.
Barring that unlikely event, however, it is Google -- not the city of Provo -- that now owns iProvo. Additionally, Google's fiber network follows the closed internet service provider model. That means that competing internet companies are not permitted to offer Gigabit services over Google Fiber's lines.
By contrast, the proposed Macquarie-UTOPIA deal would put Macquarie in the business of designing, building and operating a wholesale fiber network. But Macquarie also would allow competing companies to offer Gigabit services. Also, at the conclusion of the 30-year leasehold, the 11 UTOPIA cities would retain ownership of their respective Gigabit Networks.
The other two models discussed at the Austin event elaborated on other variations of utility financing.
Reversing the RFP Process
The Mississippi-based telecommunications company C Spire Fiber has a 4,000-mile fiber network throughout the state, and has provided a range of transport services for wireless backhaul communications and others since 2006, said Greg Logan, senior vice president at the company.
In 2011, seeking to further exploit its fiber resources, C Spire began offering connectivity for small- and medium-sized businesses. In September 2013 it decided to "turn it up a notch" and issue a "reverse RFP" for Mississippi cities to build Gigabit Networks.
In other words, instead of waiting for cities to come hire them, C Spire said that it would build network in any cities that responded to its "reverse RFP" and met its selection criteria. Of the applicant cities, nine were selected.
"In our discussions, a few key elements emerged: we did not ask for capital, we did not ask for conduit, we did not ask for [access to telephone] poles" to put fiber infrastructure, said Logan. Rather, "we did ask for a fast-track permitting" in order to locate fiber infrastructure. Under their agreements, permitting issues must be resolved within a total of 30 days.
As part of its interactions with the nine cities, C Spire has prepared maps of "fiberhoods" -- much as Google Fiber has done in Kansas City, and now in Provo -- and shared those with city managers and city leaders.
"We needed to maintain those communities of interest as best we could," said Logan. "The municipalities are committed to being very active in helping to identify champions, signups and registrations on the web site. We have been there to engage and to help them."
In other words, he said, in a very real way it was the cities that took ownership for the networks that C Spire nudged them on to build.
A 'Sahara Desert' for Bandwidth
In College Station, it was an emerging core of technology companies and their employees that evidenced demand for Gigabit Networks, recounted James Benham, CEO of JB Knowledge Technologies.
Benham's company,which specializes in enterprise application and database development for the construction and insurance industries, wasn't getting the bandwidth that it needed from existing telecommunications carriers.
"We were frustrated in College Station," Benham recounted. "It is a fascinating and great place, but the equivalent of the Sahara Desert [for bandwidth.] My software and technical people didn't want to stay around town."
Deciding to do something about it, Benham ran for the city council in November 2012, where he kick-started an initiative to develop and issue an RFP for the construction of a Gigabit network. After a fast-paced 14 months, the city is close to announcing the winner.
Although Benham wouldn't discuss applicants, he did say that RFP respondents fell into three main categories:
Engineering firms that wanted to be paid to build a network, and which would then be run by the city -- something that Benham said was "not palatable politcally."
Private fiber providers who had already built fiber networks without any public-private partnerships.
The big incumbent providers were also included and offered responses. The city "did not want to exclude them" because the RFP was "not an anti-incumbent measure."
The session, at the Broadband Communities Summit, was moderated by Diane Kruse, CEO of NeoFiber.