For Utah's UTOPIA, New Utility Financing Model for Open Gigabit Networks Contrasts with Google Fiber
WEST VALLEY CITY, Utah, May 5, 2014 - One of the largest global companies involved in the construction of highways, airports, bridges and other capital-intensive infrastructure projects plans to spend more than $300 million to complete a Gigabit Network in Utah.
The Australian-based company, Macquarie Capital, believes that it has found its first North American broadband infrastructure target in the Utah Open Telecommunications Infrastructure Agency. For about a decade, UTOPIA has been operating a high-speed fiber-optic network in 11 cities nestled in Utah's urban corridor along the Wasatch Front mountain range.
Macquarie proposes to invest its own funds, with the cost of construction defrayed through a monthly utility fee on homes and businesses. A partnering company would then sell wholesale Gigabit Services on an open network. Gigabit Networks would be ubiquitous throughout the 11 cities.
At a Thursday night meeting here laying out the company's proposed Public-Private Partnership, Macquarie Senior Vice President Duncan Ramage said, "people who have UTOPIA really like it - it is fast, and it is good."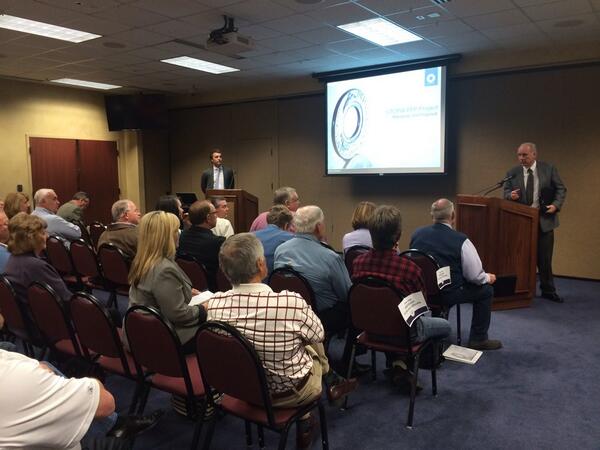 The problem, he said, lies in UTOPIA's lack of capital, as well as its current lack of scale. The network currently serves about 16,000 subscribers, one-tenth of the 160,000 homes within the cities.
Macquarie's solution is a bold application of infrastructure financing: perhaps the first time that such a model has been applied in the telecommunications space.
If the deal is consummated, Macquarie will invest more than $300 million of debt and equity financing and fully construct the Gigabit Network within two-and-a-half years, Ramage said. Effectively all risk would be transferred, for the period of 30 years, from the city governments to Macquarie.
"What we are trying to do here is financial innovation in the public sector," he said.
Contrasting Paradigms: Google vs. Macquarie
The Sydney-based Macquarie unveiled the details of its proposed Public-Private Partnership at a series of three open meetings last week. The first on Tuesday was in Orem, near Brigham Young University on the southern edge of the UTOPIA region. Wednesday's meeting was in Layton, in northern Utah. West Valley City, a blue-collar sister city to Salt Lake, hosted Thursday's meeting.
If the UTOPIA cities agree to the Macquarie proposal, Utah Valley would offer a remarkable contrast in financing different Gigabit Networks. Google Fiber is currently operating in Provo, and the Macquarie-built UTOPIA network would be next door, in neighboring Orem and 10 other cities.
In April 2013, internet search giant Google announced an agreement to purchase the assets of iProvo, a municipal fiber network. Google - which has built fiber networks in Kansas City and is now building one in Austin, Texas - purchased the troubled Provo network for the price of one dollar.
Importantly, Google did not assume any of the city's liabilities, which remain the responsibility of Provo citizens. Each Provo resident currently pays a utility fee of about $6 a month.  Moreover, as the network owner, Google will receive 100 percent of the profit from the network.
Macquarie, by contrast, is proposing a 30-year leasehold interest in UTOPIA. It promises to completely build out the network, share profits with the cities, and give a working Gigabit Network back to the cities at the conclusion of the lease.
Google's Gigabit fiber network in Provo follows the same paradigm of traditional telecommunications monopolies: it is a closed networks serviced by a single provider -- Google.
The Macquarie-built network, by contrast, retains the wholesale-retail model as originally envisioned, and thus far imperfectly executed, by UTOPIA.
Effects on Consumers, the Cities and ISPs
As articulated in both the Macquarie white paper and in the slides that accompanied the company's three presentations here last week, the proposal leverages traditional utility financing in a new realm: broadband internet services.
Here's a summary of how this Public-Private Partnership is designed to work:
Income stream. An income stream is pledged to Macquarie through a monthly telecommunications utility fee on all residences and businesses within the cities. The fee is expected to be $18-20 per household, or $9-10 per apartment unit, or $36-40 per business connection.
Basic, free universal broadband. In exchange for this utility fee, citizens would receive access to a basic broadband network -- 3 Megabit per second (Mbps) symmetrical -- built right up to the outside of their homes at no additional charge.
Open competition among retailers. Although contractors for Macquarie would build the network, a range of internet service providers would compete to offer consumers the best prices on Gigabit services. Although prices have not yet been set, it is contemplated that an internet service provider would charge about $50 for a Gigabit connection. Coupled with a $20/month fee, Gigabit Services would be available for about $70/month.
Revenue split with the cities. Revenue from the sales of Gigabit Services would be split among Macquarie, the various internet service providers, and the cities. Although the precise split has not yet been negotiated, it is anticipated that the cities would receive the majority of this revenue. This would help defray the financial obligations that cities are currently paying for the portion of the UTOPIA network already built.
"This is a utility," Ramage said about the proposed ubiquitous Gigabit Network. "We make our bread and butter" from building and managing 120 large infrastructure assets worth about $100 billion.
The key to making a Public-Private Partnership work is to properly structure the incentives for the cities, the PPP vendor (Macquarie), a new wholesale company that will retail bandwidth, the internet service providers, and the public. "The punch line is that everyone's interests are aligned," he said.
Gigabit Network Process and Telecom Politics
Macquarie's white paper on the "UTOPIA PPP Project" is the culmination of the "milestone one proposal" by the Australian company. After initial discussions with UTOPIA, Macquarie signed a pre-development agreement in December 2013, leading it to undertake the report and presentations made last week.
Legally, UTOPIA is an inter-local government agency consisting of 11 cities: Brigham City, Centerville, Layton, Lindon, Midvale, Murray, Orem, Payson, Perry, Tremonton and West Valley City. Under Utah law, government entities may not retail broadband services, but are able to wholesale internet service to private ISPs.
Now, the focus of efforts turns to council representatives for each of these cities. They have 60 days – or until June 27 -- to consider whether to move on to the second and third milestones, and to construction of the dramatically expanded network.
With a concrete proposal on the table, those conversations have begun in earnest. At the meetings last week, many of those civic leaders asked a series of tough questions about the structure of the proposed deal, the mechanisms for transferring risk from the cities to Macquarie, the utility fee, and other topics.
With an eye toward a number of objectives now held by the cities, many are now discussing the pros and cons of three major options on the table, besides the current underfunded status quo. The three new options include entering into a Public-Private Partnership; selling the network to a private party, like Google; or simply shutting down and abandoned the existing network.
The following slide demonstrates Macquarie's assessment of "high probability" (green), "medium probability" (yellow), and "low probability" (red), for each of 10 objectives held by the city:
Reduction in the cities operating deficit
Defray service obligations on existing debt
Parity of the network build across the cities
Certainty of execution
Expanding the existing subscriber base
Ubiquitous last-mile connection
Increase service offerings to users
Provision of civic benefits (public Wi-Fi, etc.)
Increase price competition and choice for users.
In terms of the broadband industry construction, Macquarie has solicited expressions of interest from 14 local, regional and national contractors, and has shortlisted two contractors, Black & Veatch and Corning. (Other qualified respondents included Dycom Industries Inc. and Kiewit.)
Each contractor is prepared to develop fixed-price date-certain design-build proposals, said Ramage of Macquarie. The company also commissioned a technical analysis of the existing network, and has selected Alcatel-Lucent as its equipment vendor and Fujitsu as its system integrator, if the project continues to the next phase.
Drew Clark is the Chairman and Publisher of the Broadband Breakfast Club, the premier Washington forum advancing the conversation around broadband technology and internet policy. You can find him on Google+ and Twitter. He founded BroadbandCensus.com, and he brings experts and practitioners together to advance Better Broadband, Better Lives.