ASPEN, Colorado, August 17, 2015 - The Technology Policy Institute's Aspen 2015 Forum opened here on Sunday night with a focus on the increasing prominence that cybersecurity threats play in core national defense matters.
"A greater and greater percentage of the president's daily briefings is taken up with cybersecurity threats," said Michael Daniel, special assistant to the president and cybersecurity coordinator, speaking at the mountain resort here in a question-and-answer session with Alan Raul, a partner and global coordinator for privacy and data security with the law firm of Sidley Austin.
This increased attention to data breaches has led to a "real sea change" across the administration, where "we have had to adopt some of the same procedures for counter-terrorism and military situations to create an escalation path," Daniel said.
These procedures provide a way to elevate threats -- such as last November's hacking of Sony Pictures computers by the North Korean government or the more recent data breach at the Office of Personnel Management -- to the attention of President Obama and senior military officials.
Daniel was chief of the intelligence branch of the National Security Division, and has worked for the Office of Management and Budget for 17 years. He was the opening attraction for the annual summer forum here organized around the theme of "The Government Back in Business: Revenge of the Regulators?"
Daniel said that the White House views cybersecurity as "an element of risk-management: It is not a risk you can drive to zero; it is a risk you have to manage."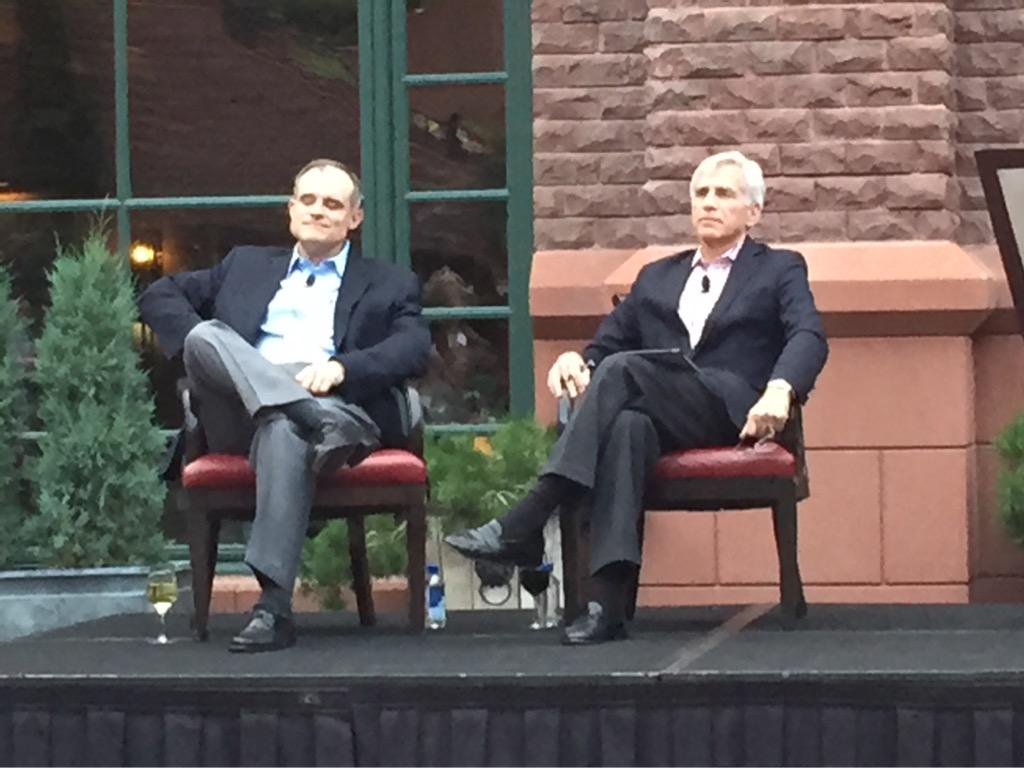 Michael Daniel, White House Cybersecurity Czar, and Alan Raul, at Aspen.
Because the source of data-breaches can vary considerably, from criminal seeking to extort funds, to "hactivists" seeking to make a political point, or to nation states engaging in espionage, "how you deter all of those actors is different."
Sometimes, the U.S. response is aggressive and public, an approach he said the nation took in response to the North Korean hack, and "there are times when we want to keep [responses] secret, to preserve our ability to do so in the future."
Daniel also said that "the emergence of the 'Internet of Things' has made the challenge of cybersecurity exponential," with threat targets moving from simple wired desktop computer to mobile devices, cars and watches.
Even though that makes the task of cyber-defense more challenging, it also raises the awareness of the need for private companies and government agencies to prepare for cyber-attacks as part of their routine information technology maintenance, he said.
The Aspen Forum event is now in its sixth year of being hosted by the Technology Policy Institute, a free market-based think tank in Washington devoted to the economics of innovation, technological change and regulation. But the Aspen event's history is far more storied, with a legacy of more than a decade of having been hosted by the Progress and Freedom Foundation, a prior free market-based think tank that closed doors in 2010. TPI founders split off from PFF prior to its demise.
Besides cybersecurity, among the topics to be considered on Monday and Tuesday include network neutrality, global internet regulation, and controversies involving intellectual property.

The Scene at the St. Regis Resort, Aspen, Colorado.
According to TPI's summary of the event and its theme, "Regulation is back in vogue.  From network neutrality to big data and the internet of things, an increasingly prevalent tendency is to look to Congress or regulatory agencies for solutions to real or perceived problems.  Beginning in the 1970s, academic research documenting the costs of various regulatory regimes to consumers led to a liberalization and, in some cases, a dismantling of those regimes. Has the tide turned?"
Among the experts speaking at the forum include Tim Bresnahan, a professor of technology and economics at Stanford, Federal Trade Commissioner Julie Brill, two Federal Communications Commissioners, U.S. International Trade Commissioner F. Scott Kieff, Deputy Assistant Attorney General for Economic Analysis Nancy Rose, and Howard Shelanski, administrator of the office of Information and Regulatory Affairs at the Office of Management and Budget.
Additionally, the program includes executive and lobbyists for AT&T, Comcast, Facebook, Google, Intel, Pandora, Verizon Communications, SoundExchange, Spotify, and T-Mobile.