The Internet of Everything, 3D Printing, 4K Video, and Robotic Drones: Among Broadband Breakfast's Top 5 Trends From CES
LAS VEGAS, January 8, 2014 – Coming to the International Consumer Electronics Show year after year enables a technology observer to see the evolutionary power continuously wrought by the digital revolution.
Herewith follows Broadband Breakfast's impressionistic list of five top trends emerging from the mammoth trade show here.
As the trade show isn't even half-over, we're not aiming for definitiveness with this list. Rather, we aim to glimpse the future of technology in a context that changes with the start of every year.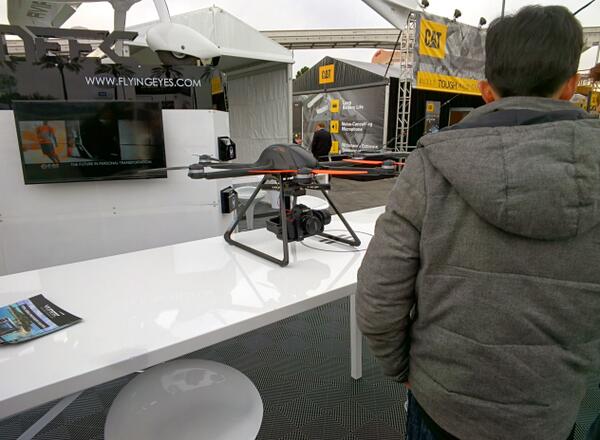 […]
LAS VEGAS, January 8, 2014 – Coming to the International Consumer Electronics Show year after year enables a technology observer to see the evolutionary power continuously wrought by the digital revolution.
Herewith follows Broadband Breakfast's impressionistic list of five top trends emerging from the mammoth trade show here.
As the trade show isn't even half-over, we're not aiming for definitiveness with this list. Rather, we aim to glimpse the future of technology in a context that changes with the start of every year.
The Internet of Everything and Wearable Computing
After many years of hype, computing is definitely moving beyond the "three screen" model. In other words, we used to consume digital content primarily through a big-screen TV, a middle-screen computer, and a small-screen mobile phone.
Each of those screens continues to mature and evolve. Now, however, the show's key highlights show a paradigm shift to wearable computing. These are the connected devices all around us, ready to respond to our beck and call. Intel CEO's Brian Krzanich keynote about how "tiny is big" echoed a core theme talked about in the sessions and at cocktail parties.
While the number of free-standing "tiny" products on the market is still quite limited, the mindshare and trade show floor space occupied by the concept is surprising large. Witness many flavors of the "connected home," as championed by mobile chip designer Qualcomm, or telecommunications equipment provider Cisco, or even through prosaic industry consortiums seeking to enable lightbulbs, door locks and lawn-sprinkler systems talk to each other.
The trend doesn't end there if we include the growing array of personal fitness devices, mobile health tools, and connected cars communicating telematic information. These sorts of products are generating the most buzz at #CES2014 — and will likely have market impact. Even the products that merge of virtual and physical reality into a blended reality are of a part of this "internet of everything," as they clothe real-world objects with a digital intelligence that enhances their usefulness and playfulness to humans.
3D Printing
There is no doubt that three-dimension printing has a long way to go until it becomes a mainstream consumer electronics technology. But we believe that the emergence of a 3D printing "techzone" heralds the beginnings of trend that is reaching a critical-interest mass.
Just two years ago, when Consumer Electronics Association CEO Gary Shapiro appeared at the January 2012 Broadband Breakfast Club on "The Wired Home and Wireless Policy," he mentioned the hot new device that he had just seen that year at CES: 3-D printing. The rapid maturation of the marketplace, including the widespread availability of sub-$1,000 devices, heralds a new age of "makers."
4K Video Technology
Global sales of televisions has slumped in the developed world, and it's only through the high demand of Chinese and other Asian nations that TV year-over-year revenue growth are still positive, according to CEA statistics. Notwithstanding that fewer consumers currently buying television, the sets get bigger and brighter ever year. And 2014 is no exception.
Each of the major manufacturers, including Samsung, Sony, LG, Panasonic , Sharp and others, are touting what they call "4K" technology, for four times the number of pixels than was once thought to be the maximum number perceptible to the human eye through high-definition television. Although 3D television isn't living up to its promised hype, everyone in the big-screen manufacturing space is moving to a 4K standard. This includes the digital cameras and computers necessary to edit, manipulate and store these streams. Look out for the bandwidth necessary to transport ever-higher-capacity video streams!
The Laptop/tablet/smartphone Continuum
Remember the "three screen" world discussed above? Even that paradigm has exploded in the last few years since the Apple iPad defined and kickstarted consumer interest in a product — the tablet — that no one ever thought they needed.
And the iPad's early 2010 launch, product lines have only gotten blurrier. Consumers want larger and larger-screen smart phone devices, and also mini-size tablets. The last year has also re-energized the once-dormant laptop-tablet convergence. Intel and Lenovo are among those promoting hybrid versions with the entertainment experience of a tablet, and the high-productivity environment of a laptop computer and keyboard.
With the center of gravity of core consumer electronics products having shifted to the tablet/smart phone-space, the desktop-and-peripheral model is dead. This is forcing products that aren't phones or tablet to consumer a smaller and smaller revenue slice of the $1 trillion annual consumer electronics marketplace.
Robots and Drones
Drones are very visible at the International Consumer Electronics Show in 2014 – and not the least because of the way they hover and fly high in the air over the showroom floors. We've seen toy drones for kids, medium-size drones for families to take on vacation and get another view of their surroundings, and and heavy-duty drones targeted largely at professional and aerial photographers.
We're most excited about the embryonic applications still in their development phase: how can a drone help a farmer to survey his crops and understand his yields in a far more time-efficient manner? We also make a point of looking in on the conventional robotics techzone. We are still waiting on the breakout products among pet robots, vacuum-cleaning and window-washing robots, and telepresence applications like an iPad on a remote-control stand.
This is the future of computing and the next stage of Moore's Law. It is where the robotic realm — big, high in the sky, outside the constraints of the human body – combines with the tiny, embedded and internet-connected experience. Together, computing will going way beyond the three screens of the old consumer electronics industry.
Drew Clark is Publisher of BroadbandBreakfast.com and tracks the development of Gigabit Networks, broadband usage, the universal service fund, and wireless spectrum policy at http://twitter.com/broadbandcensus. Nationally recognized for his knowledge on telecommunications law and policy, Clark brings experts and practitioners together to advance the benefits provided by broadband: job creation, telemedicine, online learning, public safety, the smart grid, eGovernment, and family connectedness. Clark is also available on Google+ and Twitter.
To see our top 10 Issues for 2013, see this article from BroadbandBreakfast.com.
Proposed Spectrum Reallocation Could Stifle Global Competitiveness, According to Automotive Experts
June 10, 2020 — The Federal Communications Commission's proposal of redistributing spectrum on the 5.9 GigaHertz (GHz) band drew criticism from auto industry experts on a Federal Communications Bar Associations webinar Tuesday. 
The agency proposed repurposing the lower 45 megahertz of the band for unlicensed operations to support broadband applications. 
If enacted, the new rule would take a second look at spectrum allocation on the 5.9 GHz band and propose appropriate changes to ensure the spectrum is employed to its best use. 
The 5.9 GHz band (5.850-5.925 GHz) has been reserved for use by dedicated short-range communications for the past two decades, which is a service of Intelligent Transportation Systems designed to enable vehicle-related communications. Unfortunately, DSRC technology has evolved slowly and has not been widely deployed. 
Under the newly proposed rule, the FCC would continue to dedicate spectrum in the upper 30 megahertz of the 5.9 GHz band to meet current and future transportation and vehicle safety needs, while repurposing the lower 45 megahertz of the band for unlicensed operations, such as Wi-Fi.
Since the initial deployment of DSRC technology, C-V2X technology was created, allowing vehicles to communicate with each other, as well as infrastructure, bikers and pedestrians. 
According to Matthew Hardy, program director for planning and policy for AASHTO, C-V2X technology far surpasses the capabilities presented by DSRC. Hardy argued the technology is crucial because it can prevent life-threatening crashes from occurring.
Sean Conway, a partner at Wilkinson Barker Knauer, LLP, contended that retaining all 75 MGHz is necessary for innovation, as 25 MGHz in the upper band would be utilized by 4G C-V2X, while another 50 MGHz in the lower band would be necessary to advance 5G C-V2X. 
Angel Preston, director of safety at the Alliance for Automotive Innovation, argued that the actions proposed by the FCC could hinder global competitiveness, as the U.S. is decreasing C-V2X technology deployment while other countries are increasing construction. 
Preston cited that 13 Chinese automotive makers committed to utilizing C-V2X technology in their models in coming years.
Opposition to the automotive experts was raised by Danielle Pineres, vice president of the Internet & Television Association, who argued that no more than 40 MGHz should be reserved for automotive safety, alluding to the fact that the 5.9 GHz band has been relatively unutilized for more than 20 years.
FCC inaction on the matter continues to stifle the progression of both broadband deployment and the automobile industry.   
Broadband Roundup: Tesla Cars Ain't Driverless, Suspicious Bernie Sanders Facebook Posts, ReConnect Awards
According to a Forbes article by Alan Ohnsman, U.S. safety investigators are calling for greater regulation of Teslas following the release of several investigative reports detailing several Tesla crashes due to the cars faulty autopilot mode.
In March 2018 in Mountain View, California, Walter Huang was playing a game on his phone as his Tesla Model X barreled down the highway. His car's autopilot mode failed to detect a traffic barrier and crashed head-on into the concrete, killing Huang and trapping two other cars in a vortex of metal.
Investigators of the National Transportation Safety Board, an independent government body, have found fault with the company's 'partially automated" label  in light of the accidents. They have also proposed pro-active steps Tesla and the Transportation Department should take to save lives from faulty technology.
NTSB Chairman Robert Sumwalt said at the conclusion of a hearing on Tuesday in Washington: "We urge Tesla to work on improving its Autopilot technology and for NHTSA to fulfill its oversight responsibility to ensure that corrective action is taken when necessary. It's time to stop enabling drivers in any partially automated vehicle to pretend that they have driverless cars. Because they don't have driverless cars."
Facebook investigating suspicious posts linked to Bernie Sanders supporters
Facebook is investigating accounts linked to suspicious posts that support Bernie Sanders, according to an article on The Wall Street Journal by Emily Glazer and Dustin Voz.
This news comes after U.S. Intelligence has confirmed that Russian operatives are using information to try to get Bernie Sanders nominated by the Democratic primary.
Facebook has yet to substantiate these claims.
"We investigate each credible claim we receive, just as we did in this instance when an outside researcher contacted us," Facebook spokesman Andy Stone told the Journal. "To date, we have not been able to substantiate the researcher's claims and we have not been notified by the intelligence community."
USDA's ReConnect grant program makes more awards
The Agriculture Department this week announced the awarding of $9.1 million, $3.3 million, and $2.2 million for broadband in rural communities in South Carolina, Montana, and Nevada, respectively.
The funds were dispersed via USDA's ReConnect program attempting to shrink the digital divide between rural and non-rural communities.
"High-speed broadband e-Connectivity is critical to increasing access to health care and educational opportunities and strengthening economic development efforts in rural communities," South Carolina Rural Development State Director Debbie Turbeville said.
"Under the leadership of President Trump and Agriculture Secretary Perdue, USDA is committed to being a strong partner to rural communities in deploying this critical infrastructure, because we know that when rural America thrives, all of America thrives."
The Reconnect program was passed in 2018. It allocated $600 million to USDA to expand broadband infrastructure and services in rural America. Since last summer, the department has received applications requesting a total of $1.4 billion in funding.
Pro-Tech and Disability Advocates Criticize Time-Consuming Process for Autonomous Vehicle Safety at House Hearing
WASHINGTON, February 12, 2020 – Technology advocates and disability activists on Tuesday used a hearing of an Energy and Commerce subcommittee to criticize the National Highway Traffic Safety Administration's time-consuming process to alter the rules surrounding autonomous vehicles.
Consumer Technology Association CEO Gary Shapiro and National Federation of the Blind President Mark Riccobono agreed. "Accessibility and innovation go hand in hand," Riccobono said. Companies are encouraged to create and innovate if exemptions are available, Riccobono stated.
Advocates for Highway and Auto Safety President Cathy Chase said the NHTSA is in need of additional help as its budget continues to decrease. The regulation for automated vehicles doesn't exist and "minimum performance standards" are imperative, said Chase.
Chase advocated for an increased focus on safety right away. In her written statement, Chase wrote, "the race to 'build it first' should never overshadow the need to ensure readiness for broad public use in real life scenarios."
But Shapiro said exemptions are crucial for innovation because automated vehicles will save lives regardless, and performance and regulation will never be able to guarantee no deaths.
In 2018, more than 100 people died daily from car crashes, said John Bozzella, CEO of Alliance for Automotive Innovation. He asked congress to consider a "regulatory framework" that would help decrease fatalities through safe automated vehicles.
American Association of Justice State Affairs Counsel Daniel Hinkle said automated vehicle legislation should hold producers accountable for damages or injuries inflicted on AV customers. "The difference between an automated vehicle and a human driven vehicle is a promise—a promise from the manufacturer of the automated driving system that their system can perform the entire dynamic driving task without in-vehicle supervision," Hinkle said.
Hinkle also asked that the public "not be forced into arbitration." "The one-sided and secretive nature of forced arbitration is established at the onset wherein companies, rather than individuals, choose the private company which will administer the forced arbitration proceeding, the payment terms, and the rules," stated Hinkle.
Riccobono boasted the unparalleled prospects automated vehicles would open to the blind community. "100 percent of accidents today are caused by sighted drivers," said Riccobono to laughter.
Riccobono is pleased that accessibility has been included in the automated vehicle discussion because it is usually an afterthought, he said. He asked congress not to enforce regulatory restrictions that might exclude the blind from accessing automated vehicles.
Not only will automated vehicles provide feasible transportation for the blind community, but increase workforce participation, said Riccobono.