For Utah's UTOPIA, New Utility Financing Model for Open Gigabit Networks Contrasts with Google Fiber
WEST VALLEY CITY, Utah, May 5, 2014 – One of the largest global companies involved in the construction of highways, airports, bridges and other capital-intensive infrastructure projects plans to spend more than $300 million to complete a Gigabit Network in Utah.
The Australian-based company, Macquarie Capital, believes that it has found its first North American broadband infrastructure target in the Utah Open Telecommunications Infrastructure Agency. For about a decade, UTOPIA has been operating a high-speed fiber-optic network in 11 cities nestled in Utah's urban corridor along the Wasatch Front mountain range.
Macquarie proposes to invest its own funds, with the cost of construction defrayed through a monthly utility fee on homes and businesses. A partnering company would then sell wholesale Gigabit Services on an open network. Gigabit Networks would be ubiquitous throughout the 11 cities.
At a Thursday night meeting here laying out the company's proposed Public-Private Partnership, Macquarie Senior Vice President Duncan Ramage said, "people who have UTOPIA really like it – it is fast, and it is good."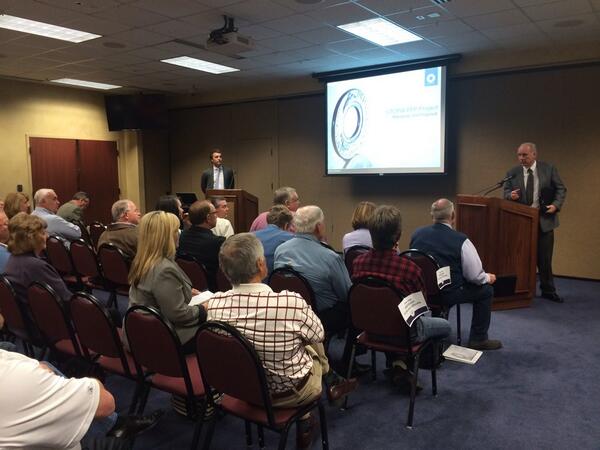 The problem, he said, lies in UTOPIA's lack of capital, as well as its current lack of scale. The network currently serves about 16,000 subscribers, one-tenth of the 160,000 homes within the cities.
Macquarie's solution is a bold application of infrastructure financing: perhaps the first time that such a model has been applied in the telecommunications space.
If the deal is consummated, Macquarie will invest more than $300 million of debt and equity financing and fully construct the Gigabit Network within two-and-a-half years, Ramage said. Effectively all risk would be transferred, for the period of 30 years, from the city governments to Macquarie.
"What we are trying to do here is financial innovation in the public sector," he said.
Contrasting Paradigms: Google vs. Macquarie
The Sydney-based Macquarie unveiled the details of its proposed Public-Private Partnership at a series of three open meetings last week. The first on Tuesday was in Orem, near Brigham Young University on the southern edge of the UTOPIA region. Wednesday's meeting was in Layton, in northern Utah. West Valley City, a blue-collar sister city to Salt Lake, hosted Thursday's meeting.
If the UTOPIA cities agree to the Macquarie proposal, Utah Valley would offer a remarkable contrast in financing different Gigabit Networks. Google Fiber is currently operating in Provo, and the Macquarie-built UTOPIA network would be next door, in neighboring Orem and 10 other cities.
In April 2013, internet search giant Google announced an agreement to purchase the assets of iProvo, a municipal fiber network. Google – which has built fiber networks in Kansas City and is now building one in Austin, Texas – purchased the troubled Provo network for the price of one dollar.
Importantly, Google did not assume any of the city's liabilities, which remain the responsibility of Provo citizens. Each Provo resident currently pays a utility fee of about $6 a month.  Moreover, as the network owner, Google will receive 100 percent of the profit from the network.
Macquarie, by contrast, is proposing a 30-year leasehold interest in UTOPIA. It promises to completely build out the network, share profits with the cities, and give a working Gigabit Network back to the cities at the conclusion of the lease.
Google's Gigabit fiber network in Provo follows the same paradigm of traditional telecommunications monopolies: it is a closed networks serviced by a single provider — Google.
The Macquarie-built network, by contrast, retains the wholesale-retail model as originally envisioned, and thus far imperfectly executed, by UTOPIA.
Effects on Consumers, the Cities and ISPs
As articulated in both the Macquarie white paper and in the slides that accompanied the company's three presentations here last week, the proposal leverages traditional utility financing in a new realm: broadband internet services.
Here's a summary of how this Public-Private Partnership is designed to work:
Income stream. An income stream is pledged to Macquarie through a monthly telecommunications utility fee on all residences and businesses within the cities. The fee is expected to be $18-20 per household, or $9-10 per apartment unit, or $36-40 per business connection.
Basic, free universal broadband. In exchange for this utility fee, citizens would receive access to a basic broadband network — 3 Megabit per second (Mbps) symmetrical — built right up to the outside of their homes at no additional charge.
Open competition among retailers. Although contractors for Macquarie would build the network, a range of internet service providers would compete to offer consumers the best prices on Gigabit services. Although prices have not yet been set, it is contemplated that an internet service provider would charge about $50 for a Gigabit connection. Coupled with a $20/month fee, Gigabit Services would be available for about $70/month.
Revenue split with the cities. Revenue from the sales of Gigabit Services would be split among Macquarie, the various internet service providers, and the cities. Although the precise split has not yet been negotiated, it is anticipated that the cities would receive the majority of this revenue. This would help defray the financial obligations that cities are currently paying for the portion of the UTOPIA network already built.
"This is a utility," Ramage said about the proposed ubiquitous Gigabit Network. "We make our bread and butter" from building and managing 120 large infrastructure assets worth about $100 billion.
The key to making a Public-Private Partnership work is to properly structure the incentives for the cities, the PPP vendor (Macquarie), a new wholesale company that will retail bandwidth, the internet service providers, and the public. "The punch line is that everyone's interests are aligned," he said.
Gigabit Network Process and Telecom Politics
Macquarie's white paper on the "UTOPIA PPP Project" is the culmination of the "milestone one proposal" by the Australian company. After initial discussions with UTOPIA, Macquarie signed a pre-development agreement in December 2013, leading it to undertake the report and presentations made last week.
Legally, UTOPIA is an inter-local government agency consisting of 11 cities: Brigham City, Centerville, Layton, Lindon, Midvale, Murray, Orem, Payson, Perry, Tremonton and West Valley City. Under Utah law, government entities may not retail broadband services, but are able to wholesale internet service to private ISPs.
Now, the focus of efforts turns to council representatives for each of these cities. They have 60 days – or until June 27 — to consider whether to move on to the second and third milestones, and to construction of the dramatically expanded network.
With a concrete proposal on the table, those conversations have begun in earnest. At the meetings last week, many of those civic leaders asked a series of tough questions about the structure of the proposed deal, the mechanisms for transferring risk from the cities to Macquarie, the utility fee, and other topics.
With an eye toward a number of objectives now held by the cities, many are now discussing the pros and cons of three major options on the table, besides the current underfunded status quo. The three new options include entering into a Public-Private Partnership; selling the network to a private party, like Google; or simply shutting down and abandoned the existing network.
The following slide demonstrates Macquarie's assessment of "high probability" (green), "medium probability" (yellow), and "low probability" (red), for each of 10 objectives held by the city:
Reduction in the cities operating deficit
Defray service obligations on existing debt
Parity of the network build across the cities
Certainty of execution
Expanding the existing subscriber base
Ubiquitous last-mile connection
Increase service offerings to users
Provision of civic benefits (public Wi-Fi, etc.)
Increase price competition and choice for users.
In terms of the broadband industry construction, Macquarie has solicited expressions of interest from 14 local, regional and national contractors, and has shortlisted two contractors, Black & Veatch and Corning. (Other qualified respondents included Dycom Industries Inc. and Kiewit.)
Each contractor is prepared to develop fixed-price date-certain design-build proposals, said Ramage of Macquarie. The company also commissioned a technical analysis of the existing network, and has selected Alcatel-Lucent as its equipment vendor and Fujitsu as its system integrator, if the project continues to the next phase.
Drew Clark is the Chairman and Publisher of the Broadband Breakfast Club, the premier Washington forum advancing the conversation around broadband technology and internet policy. You can find him on Google+ and Twitter. He founded BroadbandCensus.com, and he brings experts and practitioners together to advance Better Broadband, Better Lives. 
Josephine Bernson: The Customer Experience is About More Than Fiber
'Listen to the customer' is a fundamental pillar in gaining a satisfied customer.
Customer experience and the digital customer experience are what makes businesses today stand apart from competitors. In our connected world, it means delivering products and services via high-speed internet, provided by a network that's reliable and scalable according to rising bandwidth demand.
Yet, we must keep in mind the other component of a first-rate customer experience: customer service excellence.
Customer service excellence, from the beginning
How does a fiber provider successfully work with the customers and the community from the very beginning? And, continue to provide exceptional customer service each day thereafter?
It begins with listening. "Listen to the customer" is a fundamental pillar in gaining a satisfied customer, whether it's meeting with business executives, community leaders or residents. What are they hoping to achieve with their network, short-term and long-term? Any concerns that should be addressed?
Respond with solutions that meet their needs.  Personalization is better than a one-size-fits-all approach. Each customer has different needs and unique bandwidth specifications that should be taken into consideration. For example, the ability to adjust availability to accommodate peak work hours for a financial institution or local government complex or the flexibility needed for a local business that serves an online global market.
Get to know your customers. Focus on getting to know your customers through participating in local events and spending time in the community. Teams that live and work in same community they serve care about providing their neighbors with high-quality products and superior service. Valuable feedback comes from customers who directly interact with local employees immersed in the community.
Timely and convenient customer service options. If there's a problem, how can customers contact you for a resolution? Does the customer service center or 24/7 operations center always have agents available? Are there easily accessible online resources equipped to handle common questions? Automation is a big trend in CX. While we enjoy our personal relationships with our customers, we also leverage technology for self-service tools. It's important to enable customers to do business in whichever manner works best for them.
Happy employees for a happy customer experience
Happy employees have long been credited with increased productivity and better service for customers. Great Plains Communications' culture has always been to attract, train and retain workers from the areas it serves.
Customer service representative Marisa Benham has been with Great Plains Communications for 15 years. "I've always been a people person so I really love talking to people! I love helping them figure out what services they want and helping them if they have an issue with their account."
As for the GPC team itself, she says, "The biggest thing I love about our team is that even though we're a large company, I feel like we are still trying to get that small company family feel.  I really love that about Great Plains as well."
For any business to survive for a long period it must continually evolve. Great Plains Communications is a 113-year-old company serving nearly 200 Midwestern communities.  As a leading digital telecommunications leader, our core focus remains the same: customer service excellence. We believe in our high-performing network and high-performing people.
Customer loyalty depends on the customer experience, but it must be earned. It's more than state-of-the-art technologies. It's the people behind the innovation. It's the teams that deliver and support the technology that make all the difference.
Josephine Bernson is the chief revenue officer at Great Plains Communications. This piece is exclusive to BroadbandBreakfast.
Broadband Breakfast accepts commentary from informed observers of the broadband scene. Please send pieces to commentary@breakfast.media. The views reflected in Expert Opinion pieces do not necessarily reflect the views of Broadband Breakfast and Breakfast Media LLC.
Sean Gonsalves: National Digital Inclusion Alliance Hosts Largest Net Inclusion Gathering
NDIA Executive Director Angela Siefer zeroed in on the need for good data.
With nearly 1,000 in attendance at the Henry B. Gonzalez Convention Center in downtown San Antonio for the National Digital Inclusion Alliance (NDIA) marquee gathering, those on the front lines of bridging the digital divide across the nation came to the three-day conference (Feb 28  to March 2) to network, share lessons, best-practices, and learn from experts as the largest ever federal investment in expanding broadband access is heading to state broadband offices this summer.
Mayor addresses attendees, acknowledges open secret of segregation
San Antonio Mayor Ron Nirenberg welcomed attendees, noting how his city was a fitting venue for the event.
"It's no secret San Antonio is one of the most socio-economically segregated cities in the United States," he said. "And that's why we have zeroed-in on equity – in our budget, in who gets invited to the table."
Nirenberg congratulated NDIA for its work and the attendance record set by this year's gathering. He also singled out our own outreach coordinator and San Antonio resident DeAnne Cuellar, not only lauding her work with ILSR's Community Broadband Networks team but for her role in bringing city officials together with Older Adults Technology Services as the city commits to connecting 100,000 older adults in the city.
(ILSR's Community Broadband Networks team, which has long worked with NDIA participated conducted a workshop, participated in several panels discussions, and hosted a special Connect This! live stream at a social mixer at The Friendly Spot Icehouse.)
"Broadband is a basic human right and is a public utility. That's why digital inclusion is a pillar of our recovery program," Nirenberg said, noting how that is reflected in line items in the city's budget.
Mayor Nirenberg also spoke candidly about injustices that had been baked-in to city and state policies in the past and, whether intentional or not, excluded vulnerable communities across the city, putting them at a socio-economic disadvantage. He said that closing the digital divide was central to correcting those injustices.
He concluded his welcoming remarks encouraging attendees to "use technology to live, learn, work and thrive."
Texas broadband office announces new network funding opportunity
Also on hand for the conference was Greg Conte, Director of the Texas Broadband Development Office. Conte announced a Notice of Funding Opportunity for $120 million in grants for the construction of new high-speed Internet infrastructure across the Lone Star State.
As projects are funded to build new infrastructure, the state can't assume people will automatically subscribe for Internet service, as efforts to tackle affordability and adoption are equally important undertakings.
"We want to make sure communities can get online and use it," he said. "We ask all Texans to help in this process."
He also briefly touched on something numerous other state broadband offices are in the process of doing: beefing up staff as each state is set to receive an historic amount of federal funds from the bipartisan infrastructure bill's BEAD program.
Conte was a guest on our Community Broadband Bits podcast last summer in which he discussed the challenges of staffing up his office and addressing the dearth of data about precisely where broadband is and isn't available across the state.
Engaging other sectors in the work of advocating for more ACP funding
Batting clean-up was NDIA Executive Director Angela Siefer, who first zeroed in on the need for good data that shows and measures how local digital equity programs are working, and how those efforts can be improved.
And while quality robust data is vital, she said, it is also worth thinking about who benefits from expanded broadband access (beyond individual end-users) and how data and stories about digital inclusion initiatives can be used to engage industries and sectors of society who may not see bridging the digital divide as an urgent concern.
That includes the necessity of getting more than just Internet service providers at the table. Buy-in from healthcare providers, educational leaders, captains of retail and commerce, as well as transportation planners and housing officials should be engaged in helping to make broadband available especially for residents who struggle with affordability.
Specifically as it relates to commerce, Siefer noted, "the savings that can come from conducting certain business online can be invested into access."
Siefer also emphasized the value of digital equity advocates sharing the stories they encounter of the lives impacted by their work with those who may not be tuned into the connectivity crisis that still plagues even such a technologically-sophisticated nation as the U.S.
Lastly, Siefer reminded the attendees that the federal funding that supports the Affordable Connectivity Program will run in the next year or so without additional appropriation from Congress.
"We need more money for the ACP," she said, adding that it was important for state and local leaders to be pushing their Congressional representatives to replenish the ACP's coffers.
"The long term plan is that the Universal Service Fund needs to be fixed but that is going to take time. The ACP will run out of funds before the USF is fixed," she said.
Before the general assembly dispersed to a variety of focused workshops and breakout groups, Siefer ended with a note of encouragement: "Remember you guys are the heroes. You do the work on the ground. But NDIA has your back."
Watch the plenary sessions below. Also, stay tuned for our new podcast series Building for Digital Equity, which will debut soon and feature interviews with dozens of frontline digital inclusion practitioners discussing the work they are doing in their local communities.
This article originally appeared on the Institute for Local Self Reliance's Community Broadband Networks project on March 2, 2023, and is reprinted with permission.
NTIA Seeks Comment on How to Spend $2.5 Billion in Digital Equity Act
National Telecommunications and Information Administration is seeking comment on how to structure the programs.
WASHINGTON, March 1, 2023 – The National Telecommunications and Information Administration announced Wednesday that it is seeking comment on how to structure the $2.5 billion that the Digital Equity Act provides to promote digital equity and inclusion. 
As part of the Infrastructure Investment and Jobs Act, the Digital Equity Act consists of two sub-programs, the State Digital Equity Capacity grant and the Digital Equity Competitive grant. Comments will guide how the NTIA will design, regulate, and evaluate criteria for both programs. 
"We need to hear directly from those who are most impacted by the systemic barriers that prevent some from fully utilizing the Internet," Secretary of Commerce Gina Raimondo said Wednesday at the National Digital Inclusion Alliance's Net Inclusion event in San Antonio. 
See Commerce Secretary Raimondo's remarks at Net Inclusion:
The request for comment is part of NTIA's strategy to hear diverse perspectives in implementing its goal to ensure every American has the skills and capacity needed to reap the benefits of the digital economy, stated a press release. 
The $1.44 billion State Digital Equity Capacity grant will fund implementation of state digital equity plans which will strategically plan how to overcome barriers faced by communities seeking to achieve digital equity.  
Simply making investments in broadband builds is not enough, said Veneeth Iyengar, executive director of ConnectLA, speaking at a Brookings Insitution event in December. Bringing digital equity means "driving adoption, digital skills, and doing the kinds of things that we need to do to tackle the digital divide." 
The $1.25 billion Digital Equity Competitive grant program will fund anchor institutions, such as schools, libraries, and nonprofits, in offering digital inclusion activities that promote internet adoption. 
"Community-anchor institutions have been and are the connective tissue that make delivering high-speed internet access possible," said Alan Davidson, head of the NTIA at AnchorNets 2022 conference. 
This announcement follows dissent on the definition of digital discrimination. Commenters to the Federal Communications Commission disagree on whether the intent of a provider should be considered when determining if the provider participated in digital discrimination. There has been no response from the FCC.