For Utah's UTOPIA, New Utility Financing Model for Open Gigabit Networks Contrasts with Google Fiber
WEST VALLEY CITY, Utah, May 5, 2014 – One of the largest global companies involved in the construction of highways, airports, bridges and other capital-intensive infrastructure projects plans to spend more than $300 million to complete a Gigabit Network in Utah.
The Australian-based company, Macquarie Capital, believes that it has found its first North American broadband infrastructure target in the Utah Open Telecommunications Infrastructure Agency. For about a decade, UTOPIA has been operating a high-speed fiber-optic network in 11 cities nestled in Utah's urban corridor along the Wasatch Front mountain range.
Macquarie proposes to invest its own funds, with the cost of construction defrayed through a monthly utility fee on homes and businesses. A partnering company would then sell wholesale Gigabit Services on an open network. Gigabit Networks would be ubiquitous throughout the 11 cities.
At a Thursday night meeting here laying out the company's proposed Public-Private Partnership, Macquarie Senior Vice President Duncan Ramage said, "people who have UTOPIA really like it – it is fast, and it is good."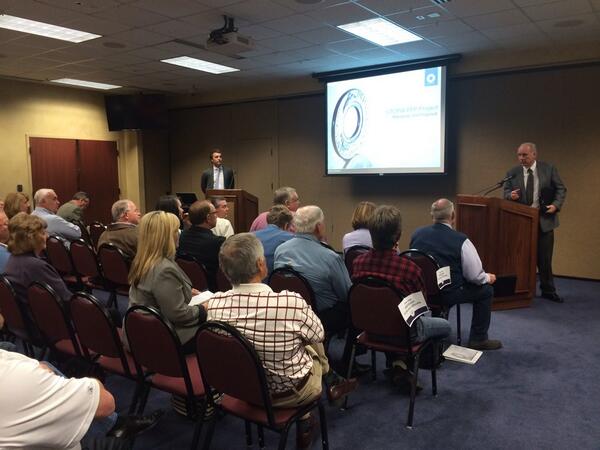 The problem, he said, lies in UTOPIA's lack of capital, as well as its current lack of scale. The network currently serves about 16,000 subscribers, one-tenth of the 160,000 homes within the cities.
Macquarie's solution is a bold application of infrastructure financing: perhaps the first time that such a model has been applied in the telecommunications space.
If the deal is consummated, Macquarie will invest more than $300 million of debt and equity financing and fully construct the Gigabit Network within two-and-a-half years, Ramage said. Effectively all risk would be transferred, for the period of 30 years, from the city governments to Macquarie.
"What we are trying to do here is financial innovation in the public sector," he said.
Contrasting Paradigms: Google vs. Macquarie
The Sydney-based Macquarie unveiled the details of its proposed Public-Private Partnership at a series of three open meetings last week. The first on Tuesday was in Orem, near Brigham Young University on the southern edge of the UTOPIA region. Wednesday's meeting was in Layton, in northern Utah. West Valley City, a blue-collar sister city to Salt Lake, hosted Thursday's meeting.
If the UTOPIA cities agree to the Macquarie proposal, Utah Valley would offer a remarkable contrast in financing different Gigabit Networks. Google Fiber is currently operating in Provo, and the Macquarie-built UTOPIA network would be next door, in neighboring Orem and 10 other cities.
In April 2013, internet search giant Google announced an agreement to purchase the assets of iProvo, a municipal fiber network. Google – which has built fiber networks in Kansas City and is now building one in Austin, Texas – purchased the troubled Provo network for the price of one dollar.
Importantly, Google did not assume any of the city's liabilities, which remain the responsibility of Provo citizens. Each Provo resident currently pays a utility fee of about $6 a month.  Moreover, as the network owner, Google will receive 100 percent of the profit from the network.
Macquarie, by contrast, is proposing a 30-year leasehold interest in UTOPIA. It promises to completely build out the network, share profits with the cities, and give a working Gigabit Network back to the cities at the conclusion of the lease.
Google's Gigabit fiber network in Provo follows the same paradigm of traditional telecommunications monopolies: it is a closed networks serviced by a single provider — Google.
The Macquarie-built network, by contrast, retains the wholesale-retail model as originally envisioned, and thus far imperfectly executed, by UTOPIA.
Effects on Consumers, the Cities and ISPs
As articulated in both the Macquarie white paper and in the slides that accompanied the company's three presentations here last week, the proposal leverages traditional utility financing in a new realm: broadband internet services.
Here's a summary of how this Public-Private Partnership is designed to work:
Income stream. An income stream is pledged to Macquarie through a monthly telecommunications utility fee on all residences and businesses within the cities. The fee is expected to be $18-20 per household, or $9-10 per apartment unit, or $36-40 per business connection.
Basic, free universal broadband. In exchange for this utility fee, citizens would receive access to a basic broadband network — 3 Megabit per second (Mbps) symmetrical — built right up to the outside of their homes at no additional charge.
Open competition among retailers. Although contractors for Macquarie would build the network, a range of internet service providers would compete to offer consumers the best prices on Gigabit services. Although prices have not yet been set, it is contemplated that an internet service provider would charge about $50 for a Gigabit connection. Coupled with a $20/month fee, Gigabit Services would be available for about $70/month.
Revenue split with the cities. Revenue from the sales of Gigabit Services would be split among Macquarie, the various internet service providers, and the cities. Although the precise split has not yet been negotiated, it is anticipated that the cities would receive the majority of this revenue. This would help defray the financial obligations that cities are currently paying for the portion of the UTOPIA network already built.
"This is a utility," Ramage said about the proposed ubiquitous Gigabit Network. "We make our bread and butter" from building and managing 120 large infrastructure assets worth about $100 billion.
The key to making a Public-Private Partnership work is to properly structure the incentives for the cities, the PPP vendor (Macquarie), a new wholesale company that will retail bandwidth, the internet service providers, and the public. "The punch line is that everyone's interests are aligned," he said.
Gigabit Network Process and Telecom Politics
Macquarie's white paper on the "UTOPIA PPP Project" is the culmination of the "milestone one proposal" by the Australian company. After initial discussions with UTOPIA, Macquarie signed a pre-development agreement in December 2013, leading it to undertake the report and presentations made last week.
Legally, UTOPIA is an inter-local government agency consisting of 11 cities: Brigham City, Centerville, Layton, Lindon, Midvale, Murray, Orem, Payson, Perry, Tremonton and West Valley City. Under Utah law, government entities may not retail broadband services, but are able to wholesale internet service to private ISPs.
Now, the focus of efforts turns to council representatives for each of these cities. They have 60 days – or until June 27 — to consider whether to move on to the second and third milestones, and to construction of the dramatically expanded network.
With a concrete proposal on the table, those conversations have begun in earnest. At the meetings last week, many of those civic leaders asked a series of tough questions about the structure of the proposed deal, the mechanisms for transferring risk from the cities to Macquarie, the utility fee, and other topics.
With an eye toward a number of objectives now held by the cities, many are now discussing the pros and cons of three major options on the table, besides the current underfunded status quo. The three new options include entering into a Public-Private Partnership; selling the network to a private party, like Google; or simply shutting down and abandoned the existing network.
The following slide demonstrates Macquarie's assessment of "high probability" (green), "medium probability" (yellow), and "low probability" (red), for each of 10 objectives held by the city:
Reduction in the cities operating deficit
Defray service obligations on existing debt
Parity of the network build across the cities
Certainty of execution
Expanding the existing subscriber base
Ubiquitous last-mile connection
Increase service offerings to users
Provision of civic benefits (public Wi-Fi, etc.)
Increase price competition and choice for users.
In terms of the broadband industry construction, Macquarie has solicited expressions of interest from 14 local, regional and national contractors, and has shortlisted two contractors, Black & Veatch and Corning. (Other qualified respondents included Dycom Industries Inc. and Kiewit.)
Each contractor is prepared to develop fixed-price date-certain design-build proposals, said Ramage of Macquarie. The company also commissioned a technical analysis of the existing network, and has selected Alcatel-Lucent as its equipment vendor and Fujitsu as its system integrator, if the project continues to the next phase.
Drew Clark is the Chairman and Publisher of the Broadband Breakfast Club, the premier Washington forum advancing the conversation around broadband technology and internet policy. You can find him on Google+ and Twitter. He founded BroadbandCensus.com, and he brings experts and practitioners together to advance Better Broadband, Better Lives. 
Lack of Public Broadband Pricing Information a Cause of Digital Divide, Say Advocates
Panelists argued that lack of equitable digital access is deadly and driven by lack of competition.
September 24, 2021- Affordability, language and lack of competition are among the factors that continue to perpetuate the digital divide and related inequities, according to panelists at a Thursday event on race and broadband.
One of the panelists faulted the lack of public broadband pricing information as a root cause.
In poorer communities there's "fewer ISPs. There's less competition. There's less investment in fiber," said Herman Galperin, associate professor at the University of Southern California. "It is about income. It is about race, but what really matters is the combination of poverty and communities of color. That's where we find the largest deficits of broadband infrastructure."
While acknowledging that "there is an ongoing effort at the [Federal Communications Commission] to significantly improve the type of data and the granularity of the data that the ISPs will be required to report," Galperin said that the lack of a push to make ISP pricing public will doom that effort to fail.
He also questioned why ISPs do not or are not required to report their maps of service coverage revealing areas of no or low service. "Affordability is perhaps the biggest factor in preventing low-income folks from connecting," Galperin said.
"It's plain bang for their buck," said Traci Morris, executive director of the American Indian Policy Institute at Arizona State University, referring to broadband providers reluctance to serve rural and remote areas. "It costs more money to go to [tribal lands]."
Furthermore, the COVID-19 pandemic has only made that digital divide clearer and more deadly. "There was no access to information for telehealth," said Morris. "No access to information on how the virus spread."
Galperin also raised the impact of digital gaps in access upon homeless and low-income populations. As people come in and out of homelessness, they have trouble connecting to the internet at crucial times, because – for example – a library might be closed.
Low-income populations also have "systemic" digital access issues struggling at times with paying their bills having to shut their internet off for months at a time.
Another issue facing the digital divide is linguistic. Rebecca Kauma, economic and digital inclusion program manager for the city of Long Beach, California, said that residents often speak a language other than English. But ISPs may not offer interpretation services for them to be able to communicate in their language.
Funding, though not a quick fix-all, often brings about positive change in the right hands. Long Beach received more than $1 million from the U.S. CARES Act, passed in the wake of the early pandemic last year. "One of the programs that we designed was to administer free hotspots and computing devices to those that qualify," she said.
Some "band-aid solutions" to "systemic problems" exist but aren't receiving the attention or initiative they deserve, said Galperin. "What advocacy organizations are doing but we need a lot more effort is helping people sign up for existing low-cost offers." The problem, he says, is that "ISPs are not particularly eager to promote" low-cost offers.
The event "Race and Digital Inequity: The Impact on Poor Communities of Color," was hosted by the Michelson 20MM Foundation and its partners the California Community Foundation, Silicon Valley Community Foundation and Southern California Grantmakers.
USC, CETF Collaborate on Research for Broadband Affordability
Advisory panel includes leaders in broadband and a chief economist at the FCC.
WASHINGTON, September 22, 2021 – Researchers from the University of Southern California's Annenberg School and the California Emerging Technology Fund is partnering to recommend strategies for bringing affordable broadband to all Americans.
In a press release on Tuesday, the university's school of communications and journalism and the CETF will be guided by an expert advisory panel, "whose members include highly respected leaders in government, academia, foundations and non-profit and consumer-focused organizations."
Members of the advisory panel include a chief economist at the Federal Communications Commission, digital inclusion experts, broadband advisors to governors, professors and deans, and other public interest organizations.
"With the federal government and states committing billions to broadband in the near term, there is a unique window of opportunity to connect millions of low-income Americans to the infrastructure they need to thrive in the 21st century," Hernan Galperin, a professor at the school, said in the release.
"However, we need to make sure public funds are used effectively, and that subsidies are distributed in an equitable and sustainable manner," he added. "This research program will contribute to achieve these goals by providing evidence-based recommendations about the most cost-effective ways to make these historic investments in broadband work for all."
The CETF and USC have collaborated before on surveys about broadband adoption. In a series of said surveys recently, the organizations found disparities along income levels, as lower-income families reported lower levels of technology adoption, despite improvement over the course of the pandemic.
The surveys also showed that access to connected devices was growing, but racial minorities are still disproportionately impacted by the digital divide.
The collaboration comes before the House is expected to vote on a massive infrastructure package that includes $65 billion for broadband. Observers and experts have noted the package's vision for flexibility, but some are concerned about the details of how that money will be spent going forward.
Technology Policy Institute Introduces Data Index to Help Identify Connectivity-Deprived Areas
The Broadband Connectivity Index uses multiple datasets to try to get a better understanding of well- and under-connected areas in the U.S.
WASHINGTON, September 16, 2021 – The Technology Policy Institute introduced Thursday a broadband data index that it said could help policymakers study areas across the country with inadequate connectivity.
The TPI said the Broadband Connectivity Index uses multiple broadband datasets to compare overall connectivity "objectively and consistently across any geographic areas." It said it will be adding it soon into its TPI Broadband Map.
The BCI uses a "machine learning principal components analysis" to take into account the share of households that can access fixed speeds the federal standard of 25 Megabits per second download and 3 Mbps upload and 100/25 – which is calculated based on the Federal Communications Commission's Form 477 data with the American Community Survey – while also using download speed data from Ookla, Microsoft data for share of households with 25/3, and the share of households with a broadband subscription, which comes from the American Community Survey.
The BCI has a range of zero to 10, where zero is the worst connected and 10 is the best. It found that Falls Church, Virginia was the county with the highest score with the following characteristic: 99 percent of households have access to at least 100/25, 100 percent of households connect to Microsoft services at 25/3, the average fixed download speed is 243 Mbps in Ookla in the second quarter of this year, and 94 percent of households have a fixed internet connection.
Meanwhile, the worst-connected county is Echols County in Georgia. None of the population has access to a fixed connection of 25/3, which doesn't include satellite connectivity, three percent connect to Microsoft's servers at 25/3, the average download speed is 7 Mbps, and only 47 percent of households have an internet connection. It notes that service providers won $3.6 million out of the $9.2-billion Rural Digital Opportunity Fund to provide service in this county.
"Policymakers could use this index to identify areas that require a closer look. Perhaps any county below, say, the fifth percentile, for example, would be places to spend effort trying to understand," the TPI said.
"We don't claim that this index is the perfect indicator of connectivity, or even the best one we can create," TPI added. "In some cases, it might magnify errors, particularly if multiple datasets include errors in the same area.
"We're still fine-tuning it to reduce error to the extent possible and ensure the index truly captures useful information. Still, this preliminary exercise shows that it is possible to obtain new information on connectivity with existing datasets rather than relying only on future, extremely expensive data."