White House Cybersecurity Czar Highlights Escalation Paths for Cyberdefense, Highlights 'Risk-Management'
ASPEN, August 17, 2015 – The Technology Policy Institute's Aspen 2015 Forum opened here on Sunday night with a focus on the increasing prominence that cybersecurity threats play in core national defense matters.
"A greater and greater percentage of the president's daily briefings is taken up with cybersecurity threats," said Michael Daniel, special assistant to the president and cybersecurity coordinator, speaking at the mountain resort here in a question-and-answer session with Alan Raul, a partner and global coordinator for privacy and data security with the law firm of Sidley Austin.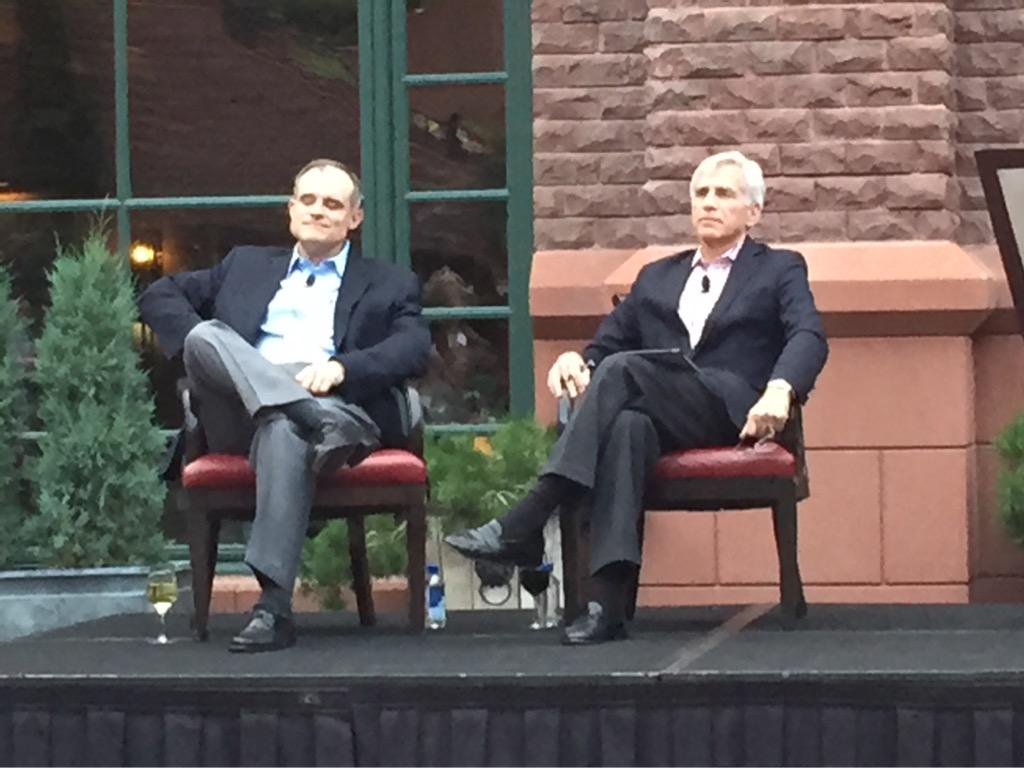 Michael Daniel, White House Cybersecurity Czar, and Alan Raul, at Aspen.
[more…]
ASPEN, Colorado, August 17, 2015 – The Technology Policy Institute's Aspen 2015 Forum opened here on Sunday night with a focus on the increasing prominence that cybersecurity threats play in core national defense matters.
"A greater and greater percentage of the president's daily briefings is taken up with cybersecurity threats," said Michael Daniel, special assistant to the president and cybersecurity coordinator, speaking at the mountain resort here in a question-and-answer session with Alan Raul, a partner and global coordinator for privacy and data security with the law firm of Sidley Austin.
This increased attention to data breaches has led to a "real sea change" across the administration, where "we have had to adopt some of the same procedures for counter-terrorism and military situations to create an escalation path," Daniel said.
These procedures provide a way to elevate threats — such as last November's hacking of Sony Pictures computers by the North Korean government or the more recent data breach at the Office of Personnel Management — to the attention of President Obama and senior military officials.
Daniel was chief of the intelligence branch of the National Security Division, and has worked for the Office of Management and Budget for 17 years. He was the opening attraction for the annual summer forum here organized around the theme of "The Government Back in Business: Revenge of the Regulators?"
Daniel said that the White House views cybersecurity as "an element of risk-management: It is not a risk you can drive to zero; it is a risk you have to manage."
Michael Daniel, White House Cybersecurity Czar, and Alan Raul, at Aspen.
Because the source of data-breaches can vary considerably, from criminal seeking to extort funds, to "hactivists" seeking to make a political point, or to nation states engaging in espionage, "how you deter all of those actors is different."
Sometimes, the U.S. response is aggressive and public, an approach he said the nation took in response to the North Korean hack, and "there are times when we want to keep [responses] secret, to preserve our ability to do so in the future."
Daniel also said that "the emergence of the 'Internet of Things' has made the challenge of cybersecurity exponential," with threat targets moving from simple wired desktop computer to mobile devices, cars and watches.
Even though that makes the task of cyber-defense more challenging, it also raises the awareness of the need for private companies and government agencies to prepare for cyber-attacks as part of their routine information technology maintenance, he said.
The Aspen Forum event is now in its sixth year of being hosted by the Technology Policy Institute, a free market-based think tank in Washington devoted to the economics of innovation, technological change and regulation. But the Aspen event's history is far more storied, with a legacy of more than a decade of having been hosted by the Progress and Freedom Foundation, a prior free market-based think tank that closed doors in 2010. TPI founders split off from PFF prior to its demise.
Besides cybersecurity, among the topics to be considered on Monday and Tuesday include network neutrality, global internet regulation, and controversies involving intellectual property.
The Scene at the St. Regis Resort, Aspen, Colorado.
According to TPI's summary of the event and its theme, "Regulation is back in vogue.  From network neutrality to big data and the internet of things, an increasingly prevalent tendency is to look to Congress or regulatory agencies for solutions to real or perceived problems.  Beginning in the 1970s, academic research documenting the costs of various regulatory regimes to consumers led to a liberalization and, in some cases, a dismantling of those regimes. Has the tide turned?"
Among the experts speaking at the forum include Tim Bresnahan, a professor of technology and economics at Stanford, Federal Trade Commissioner Julie Brill, two Federal Communications Commissioners, U.S. International Trade Commissioner F. Scott Kieff, Deputy Assistant Attorney General for Economic Analysis Nancy Rose, and Howard Shelanski, administrator of the office of Information and Regulatory Affairs at the Office of Management and Budget.
Additionally, the program includes executive and lobbyists for AT&T, Comcast, Facebook, Google, Intel, Pandora, Verizon Communications, SoundExchange, Spotify, and T-Mobile.
Families Need Outreach, More Time to Enroll in Affordable Connectivity Program
Greater enrollment in federal programs will help close the digital divide, especially for Latino communities, but help is needed.
WASHINGTON, January 27, 2022 – Greater outreach and a longer transition period for the Affordable Connectivity Program will help close the digital divide, the CEO of the League of United Latin American Citizens said Wednesday.
At a Georgetown Law School digital divide event, Sindy Benavides said the recent transition of the Federal Communications Commission's Emergency Broadband Benefit to the Affordable Connectivity Program is a step forward for families adopting services and devices. The program provides eligible households with discounts of up to $30 a month for broadband service, and up to $75 a month if the household is on Tribal lands.
But to get closer to closing the digital divide using such subsidies, better outreach is needed. Recent studies claim that only 7.1 million households have utilized the discounts offered by the Emergency Broadband Benefit, leaving as many as 30 million homes eligible to save on broadband service and devices.
Benavides said families enrolled in the EBB also need more time to transition to the Affordable Connectivity Program before transition period ends on March 1, 2022. "Not everyone can enroll before the March deadline," Benavides said. "How is it that families are living day to day, without the assistance they need?" she asked. Families are 'living, going to school, coming home late at night…think about those families that are surviving day to day."
She added that it's not enough that programs get funding, but more needs to be done to help families enroll in the services.
"So many jobs today require an application be submitted online," she said. "But what if they don't know how to connect to Wi-Fi, much less get to the website to submit an application," pointing to a statistic that 1 in 3 Latinos lack access to broadband in America.
Debra Berlyn: What's New in 2022 for Aging and Tech?
Older adults continue at a rapid pace to adopt tech that assists the aging process.
It's the start of a new year and time to view what's on the horizon for the latest technology innovations. To our great anticipation, the most significant technology event of the year, the Consumer Electronics Show, returned in-person to Las Vegas!
CES 2022 literally rolled in with some eye-catching innovations and gadgets unveiled at CES, notably with a BMW that can change its color and patterns with the use of a phone app. CES also unveiled the usual army of robots to clean the house, provide learning skills, and entertain. The Ameca robot is "human-like" and can be programmed with software using artificial intelligence, offering both speech and facial/object recognition. Ameca will engage in conversation and complement you on your lovely red hat.
The more important technology story for consumers for 2022, isn't just the "wow" innovations that may or may not make it to market this year, it is the tech that will enhance and improve all of our lives. This is particularly important for the aging community, who increasingly rely on tech to stay connected to family and community, and as an important component of healthcare.
Those 65 and older continue to adopt tech at a rapid pace, narrowing the gap with their age 18-29 younger counterparts. Now, over 65% of older adults have broadband at home, 44% have tablets, and 61% have a smartphone. These "basics" form the foundation for layering the more sophisticated health and wellness and smart home innovations available today, and on the horizon.
The pandemic has emphasized the importance of tech for the aging community. A recent AARP study has confirmed that technology is a "habit" that is here to stay for older adults. The past couple of years has led to an emphasis on tech devices to monitor our health, help us stay fit and get connected to our health care professionals.  We are spending more time at home for work and leisure, and while at home we want to be able to manage our energy use, home security, appliances and more.
According to the chief technology officer at Amazon, Werner Vogels, one of his primary predictions for tech this year is, "In 2022, our homes and buildings will become better assistants and more attentive companions to truly help with our most human needs. The greatest impact in the next few years will be with the elderly."
Technology can provide solutions to make life easier for older individuals
A critical opportunity that technology provides is to solve tough problems such as how to make life just a bit easier for older individuals and address their greatest challenges as they age.  Voice assistive tech continues to be a popular device for older adults. One-third (35%) of those 50-plus now own a home assistant, up from 17% just two years ago, with the voice assistant serving as a significant tool to reduce isolation for older adults.
While the AARP study found that growth of ownership of voice assistants, such as the Amazon Echo and Google Home, may have slowed for younger demographic groups, ownership continues to be on the rise for older adults.
Here are several examples of innovations for the aging community:
AARP's 2022 study on technology trends also recognizes that the increasing older demographic has significant purchasing power in the consumer market, including for technology spending. The study found, "Tech spending in 2020 among adults 50+ is up 194% (from $394 to $1144) to modernize, update, or create a better experience online."
It also projected that by the year 2030, "the 50-plus market is projected to swell to 132 million people who are expected to spend on average $108 billion annually on tech products."
In the coming years, older adults will have a wide range of new and innovative products to exercise their market power and find the right technology to enhance and assist their lives as they age. Over the past decade, technology has empowered older adults to be increasingly more independent, battle isolation, and stay informed and connected.  While we can't predict the future, the next decade should be an exciting opportunity for new innovations for the aging community.
Debra Berlyn serves as the executive director of The Project to Get Older Adults onLine (GOAL), and she is also the president of Consumer Policy Solutions. She represented AARP on telecom issues and the digital television transition and has worked closely with national aging organizations on several internet issues, including online safety and privacy concerns.  She serves as vice chair of the Federal Communications Commission's Consumer Advisory Committee and is on the board of the National Consumers League and is a board member and senior fellow with the Future of Privacy Forum. This Expert Opinion is exclusive to Broadband Breakfast.
Broadband Breakfast accepts commentary from informed observers of the broadband scene. Please send pieces to commentary@breakfast.media. The views reflected in Expert Opinion pieces do not necessarily reflect the views of Broadband Breakfast and Breakfast Media LLC.
Digital Inclusion Leaders a Critical Step to Closing Digital Divide: National League of Cities
The National League of Cities said government leaders need to have 'multiple points of engagement' with communities.
WASHINGTON, January 20, 2022 – To understand the digital divide, cities need to include digital equity leaders in their broadband needs assessment programs, the National League of Cities said at an event on community connectivity challenges Wednesday.
A broadband needs assessment would allow city leaders to explore the extent of the digital divide in their communities, said Lena Geraghty, the National League of Cities' director of urban innovation.
"[A needs assessment] enable city leaders to dig into who's being excluded, what's currently available in your city, and what solutions city leaders can use" to close the digital divide, she said.
"The community is going to know best about where access exists, where gaps exist, and the needs that will make connectivity better," Geraghty said. To get the best picture of a community's need, stakeholders must find and include the community's digital equity leaders in the data-gathering process, she added.
"These could be people that are knowledgeable about digital equity or people that are experiencing the digital divide," she said. "Think really broadly about what it means to be a leader and the type of information these folks can bring to bear in solving the digital divide in your communities."
Geraghty said it may be useful to formalize the leaders' work by creating a broadband working group or ad hoc committee led by the city's government. "Giving some roles and responsibilities can help everyone move in the same in direction, there's agreement, and really clear goals and outcomes."
Geraghty added that it's important for government leaders to establish multiple points of engagement for the community. "It's not enough to gather data or information from people once," she said. "The state of access to the internet and devices is always changing," so leaders should create multiple touch points for community input.
The National League of Cities released its Digital Equity Playbook for cities in December, walking readers through how they can promote digital equity in their cities. The playbook has a four-step process on how to get started with digital equity.
By walking readers through the process of connecting with the community, evaluating the connectivity landscape, gathering foundational information and reporting on findings, city leaders will be prepared to target broadband funding to unserved and underserved areas in their communities.