White House Cybersecurity Czar Highlights Escalation Paths for Cyberdefense, Highlights 'Risk-Management'
ASPEN, August 17, 2015 – The Technology Policy Institute's Aspen 2015 Forum opened here on Sunday night with a focus on the increasing prominence that cybersecurity threats play in core national defense matters.
"A greater and greater percentage of the president's daily briefings is taken up with cybersecurity threats," said Michael Daniel, special assistant to the president and cybersecurity coordinator, speaking at the mountain resort here in a question-and-answer session with Alan Raul, a partner and global coordinator for privacy and data security with the law firm of Sidley Austin.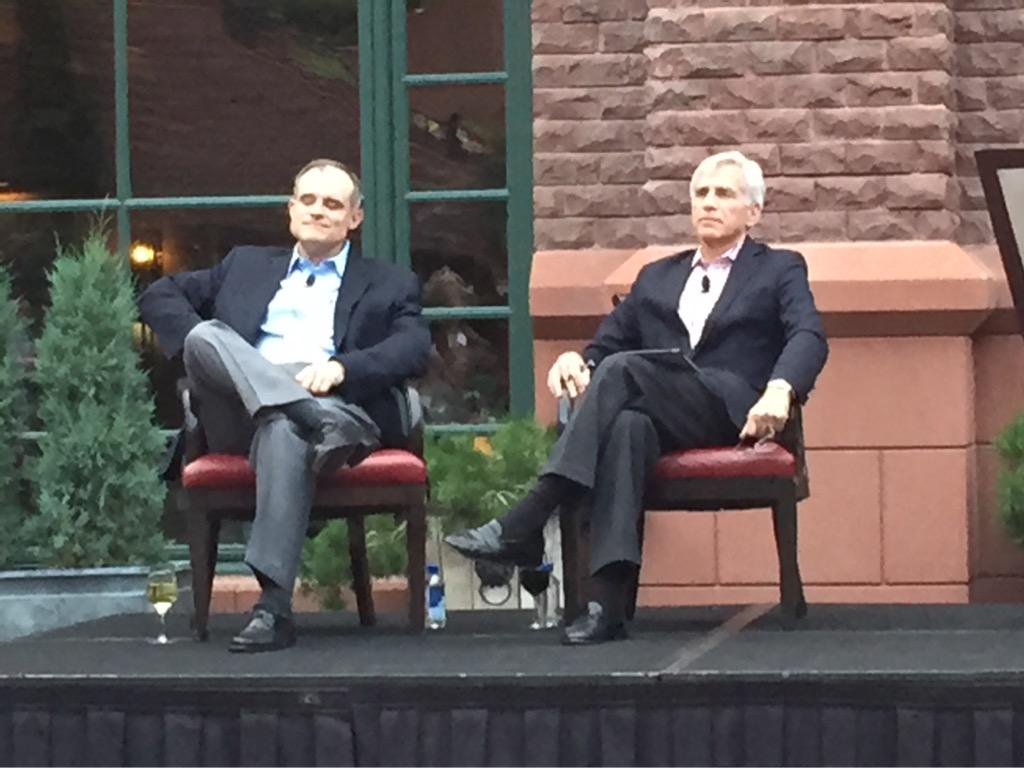 Michael Daniel, White House Cybersecurity Czar, and Alan Raul, at Aspen.
[more…]
ASPEN, Colorado, August 17, 2015 – The Technology Policy Institute's Aspen 2015 Forum opened here on Sunday night with a focus on the increasing prominence that cybersecurity threats play in core national defense matters.
"A greater and greater percentage of the president's daily briefings is taken up with cybersecurity threats," said Michael Daniel, special assistant to the president and cybersecurity coordinator, speaking at the mountain resort here in a question-and-answer session with Alan Raul, a partner and global coordinator for privacy and data security with the law firm of Sidley Austin.
This increased attention to data breaches has led to a "real sea change" across the administration, where "we have had to adopt some of the same procedures for counter-terrorism and military situations to create an escalation path," Daniel said.
These procedures provide a way to elevate threats — such as last November's hacking of Sony Pictures computers by the North Korean government or the more recent data breach at the Office of Personnel Management — to the attention of President Obama and senior military officials.
Daniel was chief of the intelligence branch of the National Security Division, and has worked for the Office of Management and Budget for 17 years. He was the opening attraction for the annual summer forum here organized around the theme of "The Government Back in Business: Revenge of the Regulators?"
Daniel said that the White House views cybersecurity as "an element of risk-management: It is not a risk you can drive to zero; it is a risk you have to manage."
Michael Daniel, White House Cybersecurity Czar, and Alan Raul, at Aspen.
Because the source of data-breaches can vary considerably, from criminal seeking to extort funds, to "hactivists" seeking to make a political point, or to nation states engaging in espionage, "how you deter all of those actors is different."
Sometimes, the U.S. response is aggressive and public, an approach he said the nation took in response to the North Korean hack, and "there are times when we want to keep [responses] secret, to preserve our ability to do so in the future."
Daniel also said that "the emergence of the 'Internet of Things' has made the challenge of cybersecurity exponential," with threat targets moving from simple wired desktop computer to mobile devices, cars and watches.
Even though that makes the task of cyber-defense more challenging, it also raises the awareness of the need for private companies and government agencies to prepare for cyber-attacks as part of their routine information technology maintenance, he said.
The Aspen Forum event is now in its sixth year of being hosted by the Technology Policy Institute, a free market-based think tank in Washington devoted to the economics of innovation, technological change and regulation. But the Aspen event's history is far more storied, with a legacy of more than a decade of having been hosted by the Progress and Freedom Foundation, a prior free market-based think tank that closed doors in 2010. TPI founders split off from PFF prior to its demise.
Besides cybersecurity, among the topics to be considered on Monday and Tuesday include network neutrality, global internet regulation, and controversies involving intellectual property.
The Scene at the St. Regis Resort, Aspen, Colorado.
According to TPI's summary of the event and its theme, "Regulation is back in vogue.  From network neutrality to big data and the internet of things, an increasingly prevalent tendency is to look to Congress or regulatory agencies for solutions to real or perceived problems.  Beginning in the 1970s, academic research documenting the costs of various regulatory regimes to consumers led to a liberalization and, in some cases, a dismantling of those regimes. Has the tide turned?"
Among the experts speaking at the forum include Tim Bresnahan, a professor of technology and economics at Stanford, Federal Trade Commissioner Julie Brill, two Federal Communications Commissioners, U.S. International Trade Commissioner F. Scott Kieff, Deputy Assistant Attorney General for Economic Analysis Nancy Rose, and Howard Shelanski, administrator of the office of Information and Regulatory Affairs at the Office of Management and Budget.
Additionally, the program includes executive and lobbyists for AT&T, Comcast, Facebook, Google, Intel, Pandora, Verizon Communications, SoundExchange, Spotify, and T-Mobile.
Uncertainty Regarding Affordable Connectivity Fund is Affecting Private Investment
Lack of assurance regarding the ACP funding discourages local governments and providers from investing into the program.
WASHINGTON, June 7, 2023 – The uncertainty surrounding the refunding of the Affordable Connectivity Program, which is expected to run out of funds in 2024, has implications for internet service providers, American households, and local governments, said experts at a Broadband Breakfast Live Online event Wednesday. 
Uncertainty surrounding the ACP funds has turned private investment into a risky bidding game, said Blair Levin, senior fellow at think tank Brookings Institution's Metropolitan Policy Program. The ACP increases the amount of private capital that providers are willing to invest in new developments in low-income communities because it increases the estimated take rate, he said. 
The ACP is currently subsidizing broadband access for more than 17 million Americans with a discount of up to $30 and $75 a month for low-income and tribal households. 
Moreover, ISPs are hesitant to market the program to consumers in a way that would suggest sustainability, as they would face a public relations nightmare if the program were to end abruptly, leaving millions of Americans without internet access, said Levin. 
The lack of assurance regarding the ACP funding discourages states, local governments and providers from investing time and resources into training staff, added Adeyinka Ogunlegan, vice president of government affairs and policy at advocacy nonprofit EducationSuperHighway.  
"Households need assurance now that the money will not disappear," she continued. There is an urgent need to apply pressure to Congress to ensure communities get the certainty they need, she said. 
The ACP is the lynchpin that connects all other federal funds, added Director of the Capital Projects Fund at the U.S. Treasury, Joseph Wender. If the fund is not replenished by the end of the year, the cascading effect could compromise the effectiveness of other federal broadband infrastructure programs such as the $42.5 billion Broadband Equity Access and Deployment program and the $10 billion Capital Projects Fund by harming affordability and program take rate. 
Wender added that it is crucial to avoid reaching a critical point where providers need to notify subscribers about the program's impending end before renewing the project funds. Consequently, relying on the Universal Service Fund reform to fund the program is not feasible within the limited timeframe.  
The USF, funded through a tax on voice service providers, supports four programs that make telephone and broadband services affordable for low-income households, health care providers, and schools and libraries. The fund's sustainability has been under pressure with voice service revenues declining as more Americans use broadband services. 
The urgency for ACP renewal cannot be overshadowed by conversations about USF reform, said Ogunlegan.  
The ACP program is the "single most important policy issue in telecommunications in terms of impact on the largest number of Americans," said Levin. 
Our Broadband Breakfast Live Online events take place on Wednesday at 12 Noon ET. Watch the event on Broadband Breakfast, or REGISTER HERE to join the conversation.
Panelists
Blair Levin, Senior Fellow, Brookings Metro
Adeyinka Ogunlegan, Vice President, Government Affairs & Policy, EducationSuperHighway
Amina Fazlullah, Senior Director of Equity Policy,

Common

 

Sense

Amol Naik, Senior Vice President, Public and Policy and Community Engagement, Ting Internet
Joseph Wender, Director, Capital Projects Fund, U.S. Treasury
Drew Clark (moderator), Editor and Publisher, Broadband Breakfast
Panelist resources:
Blair Levin is a nonresident senior fellow at Brookings Metro and a policy analyst with New Street Research, an equity research firm focused on telecommunications and technology. Levin has also been involved in a number efforts to broaden broadband's reach and effectiveness, including serving as the Executive Director of Gig.U: The Next Generation Network Innovation Project, an initiative of three dozen leading research university communities seeking to support educational and economic development by accelerating the deployment of next generation networks, leading the writing of a report for the World Bank and United Nations High Commission on Refugees on broadband for refugees, and most recently, working with the National Urban League to write the Lewis Latimer Plan for Digital Equity and Inclusion. Previously, Levin worked with the Communications & Society Program with the Aspen Institute Communications and Society Program, following his departure in 2010 from the Federal Communications Commission where he oversaw the development of a National Broadband Plan.
Amina Fazlullah is the Senior Director of Equity Policy in Common Sense's D.C. office where she works on a range of issues including expanding affordable access to technology, privacy, platform responsibility, and digital well-being. Prior to joining Common Sense, Amina was a tech policy fellow at Mozilla, where she worked to promote broadband connectivity in underserved communities (tribal, rural, and refugee communities) around the world. She has testified before committees in the U.S. House and Senate on technology issues impacting vulnerable consumers, kids, and families. She has been featured by the press and at conferences on issues related to broadband competition, Section 230, the digital divide, and dark patterns. She has published multiple research reports about the scale, cost, and solutions for addressing the digital divide. She has served on the FCC's Consumer Advisory Committee and currently serves as a founding board member of the National Digital Inclusion Alliance. Amina has also worked with the Benton Foundation, U.S. Public Interest Research Group, for the Honorable Chief Judge James M. Rosenbaum of the U.S. District Court of Minnesota, and at the FCC.
Adeyinka Ogunlegan is the vice president for government affairs and policy at EducationSuperHighway, a national nonprofit with the mission to close the digital divide for the 18 million households that have access to the internet but can't afford to connect. EducationSuperHighway focuses on America's most unconnected communities, where more than 25 percent of people don't have internet. As the leader of the government affairs team, Ogunlegan focuses on developing and executing the nonprofit's policy strategy while bringing together the right coalition of champions to accomplish ESH's mission to close the broadband affordability gap. Prior to joining EducationSuperHighway, she spent several years at Comcast where she was responsible for legislative advocacy and building partnerships with community-based organizations to close the digital divide.
Amol Naik is a government affairs executive and public policy lawyer with deep expertise in technology and infrastructure policy developed at senior levels in both the private sector and government. He is SVP of Public Policy and Community Engagement for Ting Internet, where he leads the national team responsible for all of Ting's public policy advocacy at the federal, state and local levels, as well as evaluating new markets, and subsequently collaborating with communities in the manner required for building citywide fiber to the premises networks.  Amol is a civic leader in Atlanta and his interest in digital inclusion comes from his experience growing up in rural North Carolina, where he saw the devastating impact the digital divide can have on underserved communities of color.
Joseph Wender currently serves as director of the U.S. Department of the Treasury's Capital Projects Fund. He previously served for nearly 13 years on Capitol Hill, most recently as Senator Ed Markey's senior policy adviser, where he led a team covering a wide range of issues including telecommunications and infrastructure. Wender also worked as then-Representative Markey's legislative director. Prior to working for Markey, he served as counsel for the House Transportation and Infrastructure Committee. He received his B.A. from Wesleyan University and graduated magna cum laude from Harvard Law School.
Drew Clark (moderator) is CEO of Breakfast Media LLC. He has led the Broadband Breakfast community since 2008. An early proponent of better broadband, better lives, he initially founded the Broadband Census crowdsourcing campaign for broadband data. As Editor and Publisher, Clark presides over the leading media company advocating for higher-capacity internet everywhere through topical, timely and intelligent coverage. Clark also served as head of the Partnership for a Connected Illinois, a state broadband initiative.
As with all Broadband Breakfast Live Online events, the FREE webcasts will take place at 12 Noon ET on Wednesday.
SUBSCRIBE to the Broadband Breakfast YouTube channel. That way, you will be notified when events go live. Watch on YouTube, Twitter and Facebook.
See a complete list of upcoming and past Broadband Breakfast Live Online events.
Craig Settles: And a Little Child Shall Lead Them — Digitally
How many communities are leveraging their teen populations in the pursuit of broadband and digital equity?
In 2011 at the MoBroadbandNow Summit in Missouri, I listened to the CIO of the City of Springfield explain why his city included teenagers in important broadband needs assessment and planning meetings. "In your home, who do you call when you're trying to figure out how to use the VCR?"
His point? Springfield learned a valuable lesson: Teens push the edges of technology, and understand how to use technology better than many adults do. Therefore, it is imperative to include teenagers in the planning of what is and will be their main future technologies. The brain power and the creativity alone will lead to the success of tapping this demographic.
Fast forward to 2023. How many communities are leveraging their teen populations in the pursuit of broadband and digital equity? "Kids want to get a look into the future," said Kevin Morris in a video. "That's the thing that drives many of them in school." Morris talks to many students as the director of college, careers and community services for the Duarte Unified School District.
What about their future in broadband, I wondered, when a friend talked to me about her efforts to recruit internship positions for the K12 Foothill Consortium? Many of the high school students in the Consortium are anxious to intern remotely or in-person near their homes in Southern California. It hit me — take the Springfield model of teen engagement to the rest of America!
Imagine the possibilities for local broadband or digital equity teams, local government and nonprofits if they can channel bright, tech-savvy, energetic, inquisitive teens on a mission to help bring the digital equity solutions to communities. Remote or in person interns can help with focus groups, town halls logistics, preparing and writing newsletters, usability testing and Affordable Connectivity Program enrollments.
The K12 Foothill Consortium is recruiting internship hosts for the June through August period and for at least 60 hours total. Those groups and organizations engaged with broadband and digital inclusion projects get the benefit of interns' prior training in coding, health care, web design, engineering and other related disciplines. Since interns prefer paid internships, the Consortium also raises money for organizations that may be too cash-strapped to offer a stipend but can offer meaningful internships.
Internship hosts view the relationships as a win-win for everyone involved. Ivan Ayro, director of adult and career technical education at Charter Oak Unified School District, agrees. "Students are able to connect the educational experience they're getting from Career Technical Education classes with real-life experience from workplace learning. Through the internships, many of our students are able to realize in high school if this is something that they want to do for the rest of their lives."
A recent US News & World Report article states that, although internships are traditionally for college students, high school students increasingly are participating in them. Benjamin Caldarelli, co-founder of Princeton College Consulting, a New Jersey-based educational consulting company, said, "High school students want to work somewhere that interests them and potentially make what they feel is a more meaningful contribution. They see internships as an enrichment activity and opportunity to make an impact rather than simply trading time for a little money."
More than 205,000 new jobs will need to be created to complete the Broadband Equity, Access and Deployment expansion plans, many of them skilled workers. "There is a lot of focus placed on building broadband networks, but we cannot build them without a proper workforce," Fiber Broadband Association CEO Gary Bolton said in a press release. "Failure to ensure the availability of high-skilled labor will result in workforce bottlenecks, which will ultimately lead to higher costs and project delays."
The National Telecommunications and Information Association is requiring every state to have a five-year workforce development strategy. FBA published a guidebook to help states develop that strategy. Broadband and digital inclusion teams need to pencil in "internships" as part of their plans.
High school broadband and digital inclusion interns may not be considered skilled workers, obviously, but the interns should be considered the beginning levels of workforce development campaigns in every community. Start people thinking about broadband and all things digital in high school and use internships to shape their college or post-high school plans. Don't forget that Gen Z can be an important part of broadband discussions, even if they're not interns.
Amy Foell, principal of Amy Foell Consulting LLC, heads the K12 Foothill Consortium for Azusa, Charter Oak, Duarte and Monrovia Unified School Districts' CTE. Their mission is to educate and train students to provide a community-sourced talent pool to sustain a healthy, balanced, local economy. Foell also supports workforce development programs across the San Gabriel Valley, including Pasadena Unified School District.
"I like to have an initial phone call and 15 to 20 Zoom sessions to ensure prospective internship sites understand the program," said Foell. "Before we meet, it's advisable to create a brief description of the internship project — be sure to share the organization's purpose and mission. We'll help hosts identify and interview candidates in May to early June, and students can start mid-June."
Craig Settles conducts needs analyses, planning, and grant assessments with community stakeholders who want broadband networks and telehealth to improve economic development, healthcare, education and local government. This piece is exclusive to Broadband Breakfast.
Broadband Breakfast accepts commentary from informed observers of the broadband scene. Please send pieces to commentary@breakfast.media. The views expressed in Expert Opinion pieces do not necessarily reflect the views of Broadband Breakfast and Breakfast Media LLC.
Debra Berlyn: Creating a Path to Close the Digital Divide for Older Adults
Programs like the ACP and technologies like fixed wireless can play a key role in connecting older adults.
Today, three-year old Max wants to get on the family computer and see his Grammy on the other side of the country, but she could be one of the approximately 34 percent of those age 65 and older who still aren't connected to the internet at home.
When it comes to getting connected to the internet, older adults continue to remain an isolated and unserved demographic across the country. There's more work that remains to be done to get older adults connected to the internet. It's time to get creative and expand the effort for broadband everywhere to everyone.
There's an unprecedented wave of federal funding for broadband expansion on the horizon. The Broadband Equity Access and Deployment effort is underway and will soon roll-out the $42.5 billion allocated by Congress to expand high-speed internet access across all fifty states and U.S. territories.
Pair this with several industry discount programs to choose from and there may finally be a real opportunity to drive broadband access and adoption and start to close the digital divide for older adults.
Affordable broadband
For older adults with the greatest need, there's one federally funded program that has had a significant impact on connecting the community to broadband: the Affordable Connectivity Program.
Congress appropriated $14.2 billion in the Infrastructure Investment and Jobs Act of 2021 for the ACP program to provide eligible lower-income households with up to a $30 monthly subsidy. About twenty internet service providers (including large ISPs AT&T, Verizon, Comcast, Charter and some smaller providers) offer a high-speed, high-quality internet service plan for no more than $30 dollars per month for those that qualify.
So, for these households leveraging ACP, which include millions of older adults, they apply their monthly $30 benefit to a plan and access the internet, essentially for free.
To date over 17 million households have signed up for ACP. Over 45 percent of ACP subscribers are age 50 years and older, and over 20 percent of the ACP recipient households are age 65 and older.
This program is truly one of the most important programs for assisting those in need and has finally provided the aging community the opportunity to receive the benefits of broadband.
While new qualified households continue to subscribe to ACP, time is running out for available funding of this important program. With the current number of household subscribers and continued growth, it's estimated that the ACP will run out as early as the first half of 2024. Congress must consider options now for continuing funding for the Affordable Connectivity Program.
The ACP is an essential program for customers who require a subsidy to acquire or retain broadband service. For many others who may live in areas currently unserved or underserved, or who still haven't adopted broadband service in a community, there are now new technologies for internet growth.
New approaches
One technology has upped the competitive marketplace in the home for consumers: fixed wireless internet service.  Internet service providers such as AT&T and Verizon, and wireless carriers such as T-Mobile, offer customers an alternative for accessing internet service.
It's a type of 5G or 4G LTE technology to enable fixed broadband access using radio frequencies (instead of the cables used to wire traditional wired fixed-line broadband) from the home.  Fixed wireless internet service has opened a competitive field for internet service in many communities.
Satellite internet is another interesting approach for the provision of service. Starlink has offered high speed, low latency internet, primarily in limited rural areas, but upfront costs can be on the expensive side. Now, Amazon is entering this market with Project Kuiper to provide fast, affordable broadband service around the world.
It is planning to do this by deploying thousands of satellites in low Earth orbit linked to a global network of antennas, fiber and internet connection points on the ground. Amazon expects to begin delivering broadband connections in late 2024.
The deployment plan has an interesting strategy, with a key Amazon delivery objective of bringing affordable, high-speed connectivity to all consumers. Project Kuiper will offer low-cost and easy-to-install antennas (also known as "terminals) to make the service affordable. The plan can help connect older adults in unserved, and underserved areas of the country, particularly rural communities, and other remote areas without reliable connectivity.
Now, with the ACP offering an opportunity for affordable broadband, the BEAD roll-out, fixed wireless providing competitive broadband services and satellite internet service competition with Project Kuiper on the horizon, we are on the right track to close the digital divide for older adults.
Debra Berlyn is the Executive Director of the Project to Get Older Adults onLine (Project GOAL), which works to promote the adoption of broadband for older adults, and to advance technology applications for the community. She is also president of Consumer Policy Solutions, is on the board of the National Consumers League, and is a board member and senior fellow with the Future of Privacy Forum. This piece is exclusive to Broadband Breakfast.
Broadband Breakfast accepts commentary from informed observers of the broadband scene. Please send pieces to commentary@breakfast.media. The views expressed in Expert Opinion pieces do not necessarily reflect the views of Broadband Breakfast and Breakfast Media LLC.