White House Cybersecurity Czar Highlights Escalation Paths for Cyberdefense, Highlights 'Risk-Management'
ASPEN, August 17, 2015 – The Technology Policy Institute's Aspen 2015 Forum opened here on Sunday night with a focus on the increasing prominence that cybersecurity threats play in core national defense matters.
"A greater and greater percentage of the president's daily briefings is taken up with cybersecurity threats," said Michael Daniel, special assistant to the president and cybersecurity coordinator, speaking at the mountain resort here in a question-and-answer session with Alan Raul, a partner and global coordinator for privacy and data security with the law firm of Sidley Austin.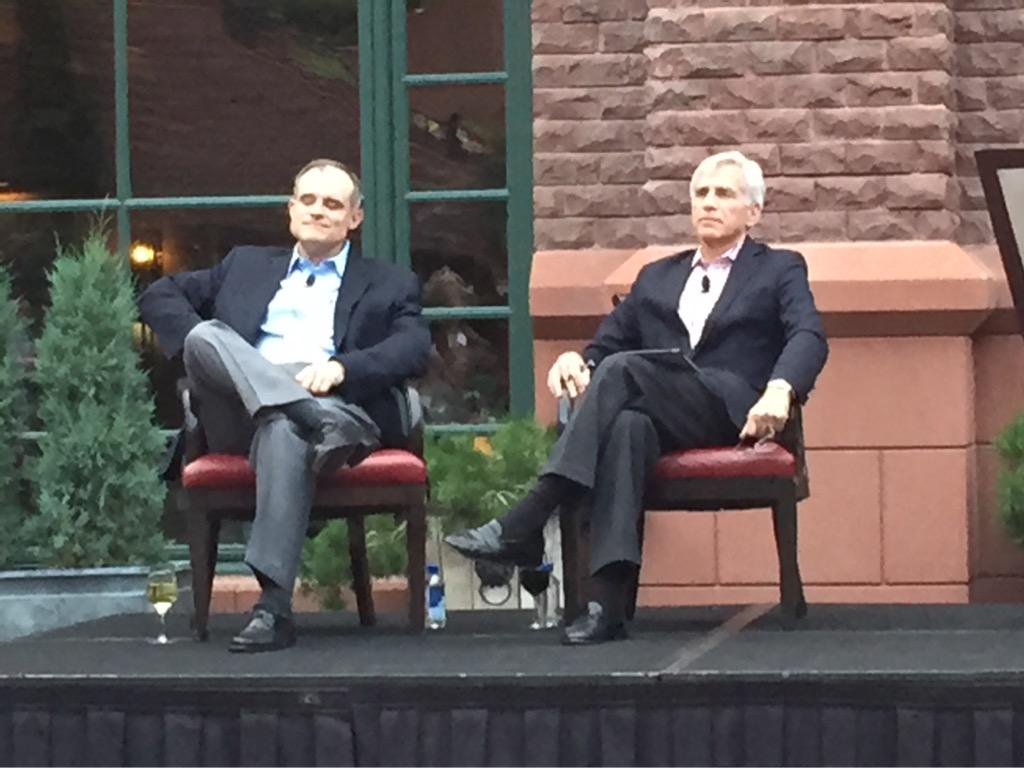 Michael Daniel, White House Cybersecurity Czar, and Alan Raul, at Aspen.
[more…]
ASPEN, Colorado, August 17, 2015 – The Technology Policy Institute's Aspen 2015 Forum opened here on Sunday night with a focus on the increasing prominence that cybersecurity threats play in core national defense matters.
"A greater and greater percentage of the president's daily briefings is taken up with cybersecurity threats," said Michael Daniel, special assistant to the president and cybersecurity coordinator, speaking at the mountain resort here in a question-and-answer session with Alan Raul, a partner and global coordinator for privacy and data security with the law firm of Sidley Austin.
This increased attention to data breaches has led to a "real sea change" across the administration, where "we have had to adopt some of the same procedures for counter-terrorism and military situations to create an escalation path," Daniel said.
These procedures provide a way to elevate threats — such as last November's hacking of Sony Pictures computers by the North Korean government or the more recent data breach at the Office of Personnel Management — to the attention of President Obama and senior military officials.
Daniel was chief of the intelligence branch of the National Security Division, and has worked for the Office of Management and Budget for 17 years. He was the opening attraction for the annual summer forum here organized around the theme of "The Government Back in Business: Revenge of the Regulators?"
Daniel said that the White House views cybersecurity as "an element of risk-management: It is not a risk you can drive to zero; it is a risk you have to manage."
Michael Daniel, White House Cybersecurity Czar, and Alan Raul, at Aspen.
Because the source of data-breaches can vary considerably, from criminal seeking to extort funds, to "hactivists" seeking to make a political point, or to nation states engaging in espionage, "how you deter all of those actors is different."
Sometimes, the U.S. response is aggressive and public, an approach he said the nation took in response to the North Korean hack, and "there are times when we want to keep [responses] secret, to preserve our ability to do so in the future."
Daniel also said that "the emergence of the 'Internet of Things' has made the challenge of cybersecurity exponential," with threat targets moving from simple wired desktop computer to mobile devices, cars and watches.
Even though that makes the task of cyber-defense more challenging, it also raises the awareness of the need for private companies and government agencies to prepare for cyber-attacks as part of their routine information technology maintenance, he said.
The Aspen Forum event is now in its sixth year of being hosted by the Technology Policy Institute, a free market-based think tank in Washington devoted to the economics of innovation, technological change and regulation. But the Aspen event's history is far more storied, with a legacy of more than a decade of having been hosted by the Progress and Freedom Foundation, a prior free market-based think tank that closed doors in 2010. TPI founders split off from PFF prior to its demise.
Besides cybersecurity, among the topics to be considered on Monday and Tuesday include network neutrality, global internet regulation, and controversies involving intellectual property.
The Scene at the St. Regis Resort, Aspen, Colorado.
According to TPI's summary of the event and its theme, "Regulation is back in vogue.  From network neutrality to big data and the internet of things, an increasingly prevalent tendency is to look to Congress or regulatory agencies for solutions to real or perceived problems.  Beginning in the 1970s, academic research documenting the costs of various regulatory regimes to consumers led to a liberalization and, in some cases, a dismantling of those regimes. Has the tide turned?"
Among the experts speaking at the forum include Tim Bresnahan, a professor of technology and economics at Stanford, Federal Trade Commissioner Julie Brill, two Federal Communications Commissioners, U.S. International Trade Commissioner F. Scott Kieff, Deputy Assistant Attorney General for Economic Analysis Nancy Rose, and Howard Shelanski, administrator of the office of Information and Regulatory Affairs at the Office of Management and Budget.
Additionally, the program includes executive and lobbyists for AT&T, Comcast, Facebook, Google, Intel, Pandora, Verizon Communications, SoundExchange, Spotify, and T-Mobile.
USC, CETF Collaborate on Research for Broadband Affordability
Advisory panel includes leaders in broadband and a chief economist at the FCC.
WASHINGTON, September 22, 2021 – Researchers from the University of Southern California's Annenberg School and the California Emerging Technology Fund is partnering to recommend strategies for bringing affordable broadband to all Americans.
In a press release on Tuesday, the university's school of communications and journalism and the CETF will be guided by an expert advisory panel, "whose members include highly respected leaders in government, academia, foundations and non-profit and consumer-focused organizations."
Members of the advisory panel include a chief economist at the Federal Communications Commission, digital inclusion experts, broadband advisors to governors, professors and deans, and other public interest organizations.
"With the federal government and states committing billions to broadband in the near term, there is a unique window of opportunity to connect millions of low-income Americans to the infrastructure they need to thrive in the 21st century," Hernan Galperin, a professor at the school, said in the release.
"However, we need to make sure public funds are used effectively, and that subsidies are distributed in an equitable and sustainable manner," he added. "This research program will contribute to achieve these goals by providing evidence-based recommendations about the most cost-effective ways to make these historic investments in broadband work for all."
The CETF and USC have collaborated before on surveys about broadband adoption. In a series of said surveys recently, the organizations found disparities along income levels, as lower-income families reported lower levels of technology adoption, despite improvement over the course of the pandemic.
The surveys also showed that access to connected devices was growing, but racial minorities are still disproportionately impacted by the digital divide.
The collaboration comes before the House is expected to vote on a massive infrastructure package that includes $65 billion for broadband. Observers and experts have noted the package's vision for flexibility, but some are concerned about the details of how that money will be spent going forward.
Technology Policy Institute Introduces Data Index to Help Identify Connectivity-Deprived Areas
The Broadband Connectivity Index uses multiple datasets to try to get a better understanding of well- and under-connected areas in the U.S.
WASHINGTON, September 16, 2021 – The Technology Policy Institute introduced Thursday a broadband data index that it said could help policymakers study areas across the country with inadequate connectivity.
The TPI said the Broadband Connectivity Index uses multiple broadband datasets to compare overall connectivity "objectively and consistently across any geographic areas." It said it will be adding it soon into its TPI Broadband Map.
The BCI uses a "machine learning principal components analysis" to take into account the share of households that can access fixed speeds the federal standard of 25 Megabits per second download and 3 Mbps upload and 100/25 – which is calculated based on the Federal Communications Commission's Form 477 data with the American Community Survey – while also using download speed data from Ookla, Microsoft data for share of households with 25/3, and the share of households with a broadband subscription, which comes from the American Community Survey.
The BCI has a range of zero to 10, where zero is the worst connected and 10 is the best. It found that Falls Church, Virginia was the county with the highest score with the following characteristic: 99 percent of households have access to at least 100/25, 100 percent of households connect to Microsoft services at 25/3, the average fixed download speed is 243 Mbps in Ookla in the second quarter of this year, and 94 percent of households have a fixed internet connection.
Meanwhile, the worst-connected county is Echols County in Georgia. None of the population has access to a fixed connection of 25/3, which doesn't include satellite connectivity, three percent connect to Microsoft's servers at 25/3, the average download speed is 7 Mbps, and only 47 percent of households have an internet connection. It notes that service providers won $3.6 million out of the $9.2-billion Rural Digital Opportunity Fund to provide service in this county.
"Policymakers could use this index to identify areas that require a closer look. Perhaps any county below, say, the fifth percentile, for example, would be places to spend effort trying to understand," the TPI said.
"We don't claim that this index is the perfect indicator of connectivity, or even the best one we can create," TPI added. "In some cases, it might magnify errors, particularly if multiple datasets include errors in the same area.
"We're still fine-tuning it to reduce error to the extent possible and ensure the index truly captures useful information. Still, this preliminary exercise shows that it is possible to obtain new information on connectivity with existing datasets rather than relying only on future, extremely expensive data."
New Report Recommends Broadening Universal Service Fund to Include Broadband Revenues
A Mattey Consulting report finds broadband revenues can help sustain the fund used to connect rural and low-income Americans.
WASHINGTON, September 14, 2021— Former deputy chief of the Federal Communications Commission Carol Mattey released a study on Tuesday recommending the agency reform the Universal Service Fund to incorporate a broad range of revenue sources, including from broadband.
According to the report by Mattey's consulting firm Mattey Consulting LLC, revenues from "broadband internet access services that are increasingly used by Americans today should contribute to the USF programs that support the expansion of such services to all," it said. "This will better reflect the value of broadband internet access service in today's marketplace for both consumers and businesses."
Mattey notes that sources of funding for the USF, which are primarily from voice revenues and supports expanding broadband to low-income Americans and remote regions, has been shrinking, thus putting the fund in jeopardy. The contribution percent reached a historic high at 33.4 percent in the second quarter this year, and decreased slightly after that, though Mattey suggested it could soar as high as 40 percent in the coming years.
"This situation is unsustainable and jeopardizes the universal broadband connectivity mission for our nation without immediate FCC reform," Mattey states in her report, "To ensure the enduring value of the USF program and America's connectivity goals, we must have a smart and substantive conversation about the program's future."
According to Mattey's data, the assessed sources (primarily voice) of income will only continue to shrink over the coming years, while unassessed sources will continue to grow. Mattey's report was conducted in conjunction with INCOMPAS, NTCA: The Rural Broadband Association, and the Schools, Health and Libraries Broadband Coalition.
"It is time for the FCC to take action, and to move away from the worst option of all – the status quo – that is jeopardizing the USF which is critical to connecting our nation," the report said.
John Windhausen, executive director of SHLB, echoed the sentiments expressed by Mattey in her report, "We simply must put the USF funding mechanism on a more stable and sustainable path," he said, "[in order to] strengthen our national commitment to broadband equity for all."
Mattey report uniform with current recommendations
Mattey's research is generally in line with proponents of change to the USF. Some have recommended that the fund draw from general broadband revenues, while others have said general taxation would provide a longer lasting solution. Even FCC Commissioner Brendan Carr suggested that Big Tech be forced to contribute to the system it benefits from, which the acting chairwoman Jessica Rosenworcel said is an "intriguing" idea.
The FCC instituted the USF in 1997 as a part of the Telecommunications Act of 1996. The fund was designed to encourage the development of telecom infrastructure across the U.S.—dispensing billions of dollars every year to advance the goal of universal connectivity. It does so through four programs: the Connect America Fund, Lifeline, the rural health care program, and E-Rate.
These constituent programs address specific areas related for broadband. For example, the E-Rate program is primarily concerned with ensuring that schools and libraries are sufficiently equipped with internet and technology assistance to serve their students and communities. All of these programs derive their funding from the USF.