White House Cybersecurity Czar Highlights Escalation Paths for Cyberdefense, Highlights 'Risk-Management'
ASPEN, August 17, 2015 – The Technology Policy Institute's Aspen 2015 Forum opened here on Sunday night with a focus on the increasing prominence that cybersecurity threats play in core national defense matters.
"A greater and greater percentage of the president's daily briefings is taken up with cybersecurity threats," said Michael Daniel, special assistant to the president and cybersecurity coordinator, speaking at the mountain resort here in a question-and-answer session with Alan Raul, a partner and global coordinator for privacy and data security with the law firm of Sidley Austin.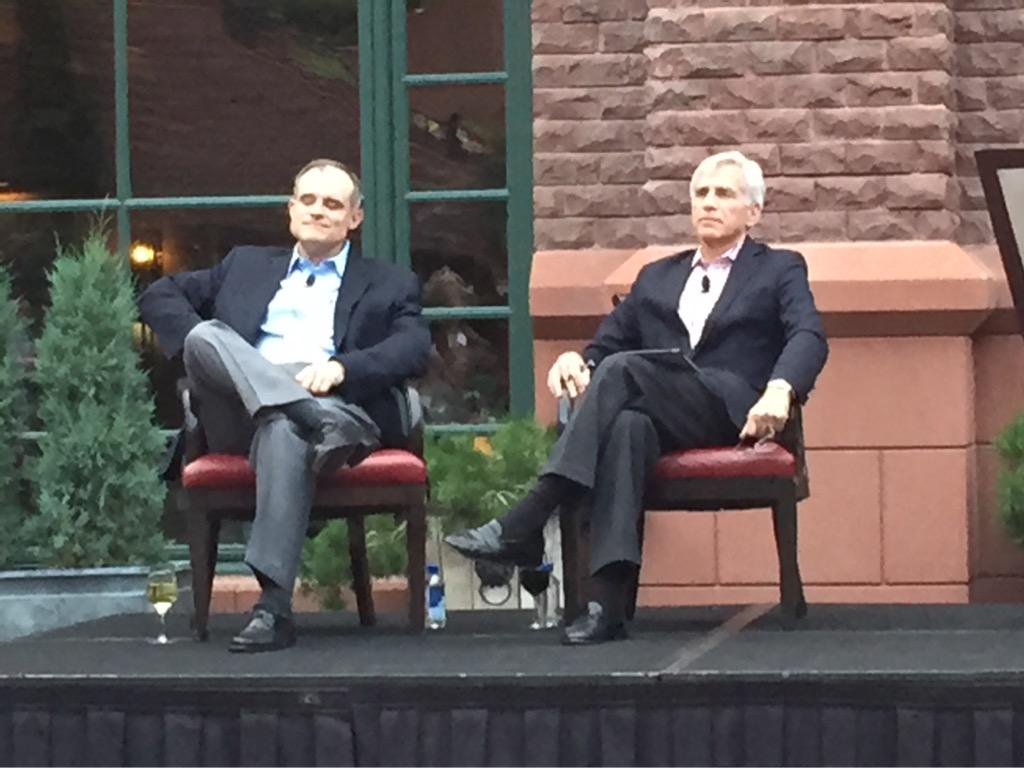 Michael Daniel, White House Cybersecurity Czar, and Alan Raul, at Aspen.
[more…]
ASPEN, Colorado, August 17, 2015 – The Technology Policy Institute's Aspen 2015 Forum opened here on Sunday night with a focus on the increasing prominence that cybersecurity threats play in core national defense matters.
"A greater and greater percentage of the president's daily briefings is taken up with cybersecurity threats," said Michael Daniel, special assistant to the president and cybersecurity coordinator, speaking at the mountain resort here in a question-and-answer session with Alan Raul, a partner and global coordinator for privacy and data security with the law firm of Sidley Austin.
This increased attention to data breaches has led to a "real sea change" across the administration, where "we have had to adopt some of the same procedures for counter-terrorism and military situations to create an escalation path," Daniel said.
These procedures provide a way to elevate threats — such as last November's hacking of Sony Pictures computers by the North Korean government or the more recent data breach at the Office of Personnel Management — to the attention of President Obama and senior military officials.
Daniel was chief of the intelligence branch of the National Security Division, and has worked for the Office of Management and Budget for 17 years. He was the opening attraction for the annual summer forum here organized around the theme of "The Government Back in Business: Revenge of the Regulators?"
Daniel said that the White House views cybersecurity as "an element of risk-management: It is not a risk you can drive to zero; it is a risk you have to manage."
Michael Daniel, White House Cybersecurity Czar, and Alan Raul, at Aspen.
Because the source of data-breaches can vary considerably, from criminal seeking to extort funds, to "hactivists" seeking to make a political point, or to nation states engaging in espionage, "how you deter all of those actors is different."
Sometimes, the U.S. response is aggressive and public, an approach he said the nation took in response to the North Korean hack, and "there are times when we want to keep [responses] secret, to preserve our ability to do so in the future."
Daniel also said that "the emergence of the 'Internet of Things' has made the challenge of cybersecurity exponential," with threat targets moving from simple wired desktop computer to mobile devices, cars and watches.
Even though that makes the task of cyber-defense more challenging, it also raises the awareness of the need for private companies and government agencies to prepare for cyber-attacks as part of their routine information technology maintenance, he said.
The Aspen Forum event is now in its sixth year of being hosted by the Technology Policy Institute, a free market-based think tank in Washington devoted to the economics of innovation, technological change and regulation. But the Aspen event's history is far more storied, with a legacy of more than a decade of having been hosted by the Progress and Freedom Foundation, a prior free market-based think tank that closed doors in 2010. TPI founders split off from PFF prior to its demise.
Besides cybersecurity, among the topics to be considered on Monday and Tuesday include network neutrality, global internet regulation, and controversies involving intellectual property.
The Scene at the St. Regis Resort, Aspen, Colorado.
According to TPI's summary of the event and its theme, "Regulation is back in vogue.  From network neutrality to big data and the internet of things, an increasingly prevalent tendency is to look to Congress or regulatory agencies for solutions to real or perceived problems.  Beginning in the 1970s, academic research documenting the costs of various regulatory regimes to consumers led to a liberalization and, in some cases, a dismantling of those regimes. Has the tide turned?"
Among the experts speaking at the forum include Tim Bresnahan, a professor of technology and economics at Stanford, Federal Trade Commissioner Julie Brill, two Federal Communications Commissioners, U.S. International Trade Commissioner F. Scott Kieff, Deputy Assistant Attorney General for Economic Analysis Nancy Rose, and Howard Shelanski, administrator of the office of Information and Regulatory Affairs at the Office of Management and Budget.
Additionally, the program includes executive and lobbyists for AT&T, Comcast, Facebook, Google, Intel, Pandora, Verizon Communications, SoundExchange, Spotify, and T-Mobile.
FCC to Vote On Emergency Broadband Benefit Policies By Mid-May: Rosenworcel
The agency is expected to vote on policies for the $3.2B program by mid-May to ensure proper implementation, chairwoman says.
April 14, 2021 – Jessica Rosenworcel, the chairwoman of the Federal Communications Commission, said Tuesday the agency will be voting by mid-May on policies to deliver the $3.2-billion Emergency Broadband Benefit program, which has received over 9,000 interested institutions through its portal.
The Emergency Broadband Benefit program is part of the Consolidated Appropriations Act of 2021 that passed Congress in December 2020, which provides up to $50 in a monthly internet discount for families and $75 for tribal lands to access broadband internet.
It's "the nation's largest ever broadband affordability program," Rosenworcel said Tuesday on a virtual panel hosted by Allvanza, an advocacy group for Latinxs and underserved communities within the technology, telecommunications and innovation industries; the Multicultural Media Telecom and Internet Council (MMTC); and the Asian Pacific American Advocate group (OCA).
It's "designed to make sure we get every household in this country connected to high-speed Internet service because this pandemic has proven like nothing before," she added.
The FCC made a sign-up portal on its website to determine interest in the program, and over 9,000 institutions have signed up to date, Rosenworcel said, adding she hopes the policies for the EBB can address the homework gap by extending internet subsidies normally reserved for schools and libraries to households.
Evelyn Remaley, acting assistant secretary of commerce for communications and information and acting National Telecommunications and Information Administration (NTIA) Administrator, said minority-aimed broadband initiatives have done great work in bringing together providers and companies with minority-serving institutions.
Virt Seeks To Serve As The Hub To Find And Join Virtual Events
Launched last week, virt.com hopes to take advantage of the rise in virtual events by crowdsourcing them in one place.
April 13, 2021 – Global Health Strategies, the global advocacy group focused on health and policy, last week launched Virt.com, a new open-source media platform that crowdsources virtual events on various issues.
Those "issue channels" include health, Covid-19, climate and environment, gender, food and nutrition and human rights. It relies on users in different regions posting about upcoming events in those categories.
The launch last week coincided with a new ad campaign called Unmutetheworld, focused on digital equity around the world with the belief that internet access is a human right. It includes partnering with groups like National Digital Inclusion Alliance and grassroots organizations in many different countries.
"The pandemic has transformed our lives. The way we connect, the way we celebrate, the way we mourn, the way we work, access healthcare and learn, has changed," GHS CEO David Gold said in an interview. "Broadband allows us to connect virtually even during the pandemic, but so many people don't have access to the internet, they cannot connect, and we have to change that," he said.
Gold described Virt as a way to connect people globally to meaningful conversations about health, science, policy, technology, among other topics. "We have a window of opportunity right now with the pandemic to really change. Despite all the terrible effects of COVID-19, we have this moment in time to make the case for big investments," he said.
Gold highlighted the work of GHS and the Unmutetheworld campaign to connect people across different nations. "Broadband access comes to the heart of economic development, we have to take that momentum in the U.S. and expand it around the world," he said.
Broadband is becoming increasingly more important, with more people working, schooling, or using health services virtually than ever before due to the pandemic.
Broadband central to digital activities
"Broadband used to be a 'nice to have,' now it is a 'must have,'" Angela Siefer, executive director at NDIA, said in an interview. "Twenty years ago, we were worried about having enough computers in a classroom and lucky that one of them connected to the internet, but that has changed now, and we need to keep up with the technology. It permeates our whole lives," she said.
President Joe Biden recently announced a new $2.3-trillion infrastructure proposal called the American Jobs Plan, which includes $100 billion for broadband programs over eight years. Congress has also recently introduced legislation on broadband initiatives, including $100 billion as part of the Leading Infrastructure for Tomorrow's America Act, or LIFT America Act, sponsored by the Democratic delegation on the House Energy and Commerce Committee.
"We are excited about the potential of these government initiatives, not just for funding deployment, but also to address affordability, digital literacy skills and devices," Siefer said. "We've never had this much awareness about broadband issues. We're seeing real ideas being put into action."
Siefer also mentioned state-level efforts to expand broadband, including recent legislation in New York and Maryland. Maryland plans to spend $300 million of federal funding from the American Rescue Plan on broadband programs, including infrastructure, subsidies for fees and devices, and grants for municipal broadband. New York state recently announced the 2022 fiscal year budget including a $300 billion infrastructure package that contains broadband subsidies for low-income residents and an emergency fund to provide economically-disadvantaged students with free internet access.
"We're seeing a shift to address adoption and affordability at both the state and federal level, where previously we only saw discussion of availability," Siefer said. "It's not just about unserved and underserved areas when it comes to digital equity, because the infrastructure might be there, but people are not participating in broadband for a variety of reasons," she said. "Affordability and digital literacy lock people out. New programs aim to solve that problem and get people connected."
Libraries Must Be Vigilant To Ensure Adequate Broadband, Consultants Say
April 7, 2021 – Libraries should monitor their broadband speeds and ensure they are getting quality connections, according to library consultants.
Carson Block from Carson Block Consulting and Stephanie Stenberg of the Internet2 Community Anchor program told a virtual conference hosted by the American Library Association on Tuesday that it's time libraries take a closer look at how they are getting broadband and if they are getting the speeds they are paying for. If not, they said they should re-negotiate.
Block and Stenberg shared details about the "Towards Gigabit Libraries" (TGL) toolkit, a free, self-service guide for rural and tribal libraries to better understand and improve their broadband. The new toolkit helps libraries prepare for E-Rate internet subsidy requests to aid their budget cycles.
It also has tips about communicating effectively between library and tech people since there is a gap in knowledge between those two groups. The TGL is supported by the Institute of Museum and Library Services (IMLS) and Gigabit Libraries and Beyond (GLG) to improve the toolkit and expand throughout the United States. In addition to focusing on rural and tribal libraries, now urban libraries will be included for support.
During the event, a live poll showed all participating attendees said they "very infrequently" had technical IT support available in their home libraries. Stenberg said this confirmed TGL's findings that libraries need more tech and IT support, as the majority of respondents in previous surveys gave similar concerning results.
To really emphasize the need for adequate broadband and support at libraries, another question was asked to live attendees about their current level of expertise around procuring and delivering access to broadband as a service in their library, assuming that the majority of attendees worked for libraries. All participants said they possess "no experience" trying to get broadband in the library.
Common issues that are to blame include libraries with insufficient bandwidth, data wiring or poorly set-up networks. Old and obsolete equipment also contributed to bad Wi-Fi coverage.